Peacock Eco Park is expected to be ready in Penang by December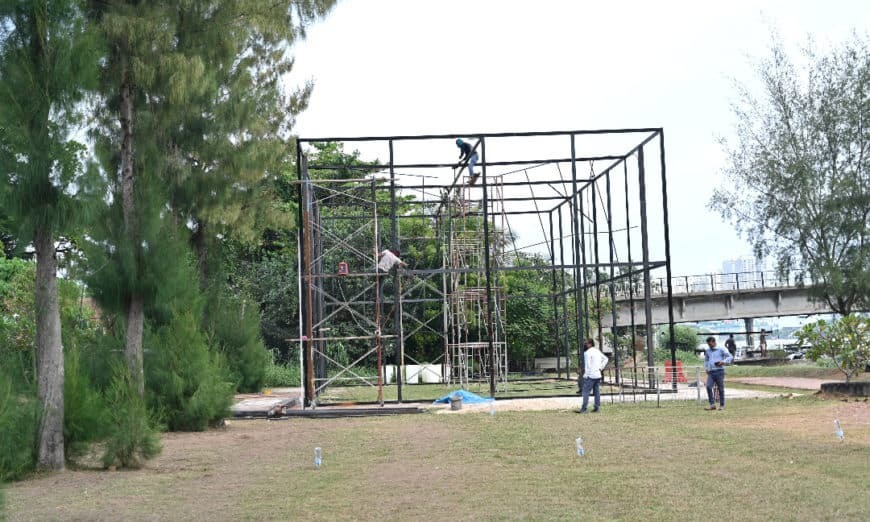 The construction works of the first-ever aviary or a mini zoo in Penang that specialises in raising peacock is expected to be completed in December this year.
Known as Peacock Echo Park, it is located at Taman Kimsar in Prai.
Seberang Perai City Council (MBSP) councillor David Marshel said once completed, the aviary would be home to plenty of peacocks from various species.
"The RM300,000 project is a joint collaboration between Prai constituency service centre, MBSP and Mr D. Parantpaman as the owner of the peacocks.
"He will contribute some of his peacocks to be put in the aviary. He will also be responsible for managing the place and its facilities once the project is completed soon.
"We choose Mr Parantpaman to manage the place because of his vast knowledge and experience as peacock consultant.
"There will be a memorandum of understanding (MoU) signing ceremony soon to legalise the matter between the three parties.
"The construction works of the Peacock Echo Park started four months ago and as of now, the project is 50 percent complete. And since we can operate at full force now, we are confident of doing our best to ensure that the project is completed within the stipulated time.
"Hopefully, when the aviary is fully operational soon, we can transform Prai as a tourist attraction on the mainland," Marshel told Buletin Mutiara during his visit to the place recently.
According to Parantpaman who was also present during the visit, admission would be free of charge once it is open to the public.
"We will also open a souvenir shop and a small cafe inside the aviary to cover back the expenses.
"I also want to include a pond in front of the aviary, where giant Victoria lilies will be grown.
"Hopefully, when it's open soon, the public will know more about peacocks and appreciate it.
Parantpaman said when the construction works are completed, he would put 50 peacocks from nine species at the aviary.
"Among the species are Indian metallic greenish-blue neck peacocks, the albino version of Indian peacocks and Javanese mix peacocks from Belgium, Pied and Black Shoulder peacocks from Spain.
"And what I like about peacocks the most is they are clean and quiet birds unlike chicken. Plus, they are beautiful too," he added.
Parantpaman added that at the moment, he has a total of 200 peacocks from nine species including a variety of hybrid peacocks that are put in the small animal farm in front of his house at Taman Kimsar.
"I started with 10 peacocks about 10 years ago and the number has multiplied since then.
"The discussion to have the first-ever Peacock Echo Park started in 2018.
"And I am glad that it has materialised now. Once the aviary is ready, it will be a perfect opportunity for me to educate and introduce these unique and beautiful bird species to everyone," he added.
Source: Buletin Mutiara