Penang South Islands – IoT-Enabled Sustainable Smart City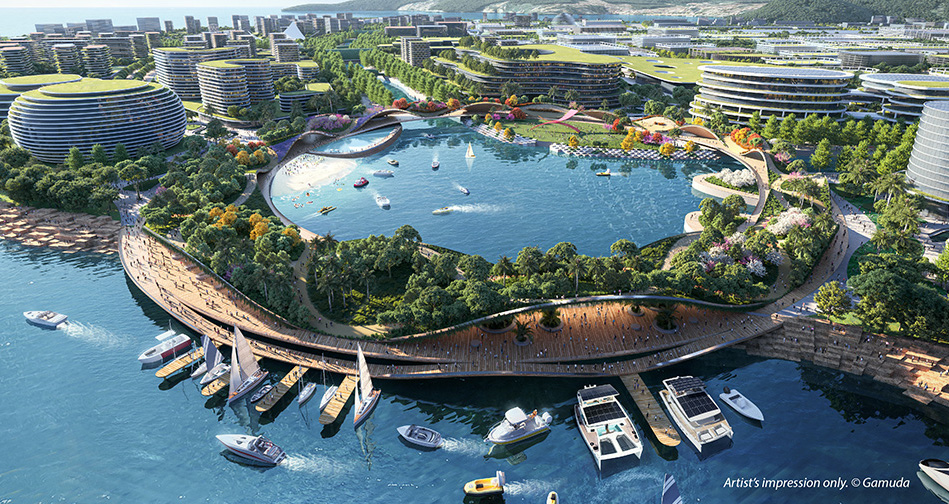 The Malaysian state of Penang is fast becoming an IoT-Enabled Smart City modeled on the tenets of green living, strong ESG principles and sustainable economic momentum. Soon, it could be one of Southeast Asia's hottest investment destinations.
Central to that transformation is Penang South Islands (PSI). The three-island development will help the state achieve its Penang2030 vision. By combining advanced technologies for next-generation industries with eco-friendly masterplans, PSI will raise the game for Penang as a leading investment destination for global corporations.
"The PSI Green Plan will play a vital role in making that happen," says Chow Kon Yeow, Chief Minister of Penang. "The PSI targets a 50% reduction in CO2e emissions by 2030 compared to business as usual. Coupled with Penang's advanced manufacturing capabilities, ESG principles will make PSI the ideal choice for global businesses to build their manufacturing hubs while meeting their sustainability targets. Especially in the electronics, medical devices and other high-end sectors where Penang already makes significant contributions."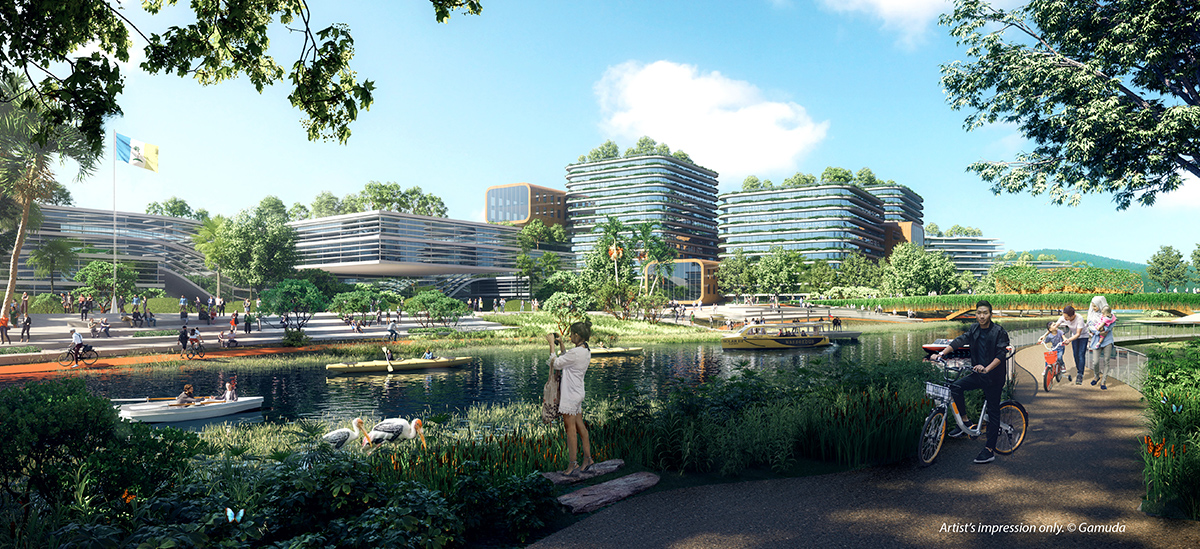 A Green Plan for the Penang South Islands
The PSI Green Plan promises big outcomes: 100% renewable energy for powering the Green Tech Park; a 40% reduction in urban planning emissions; a 40% reduction in non-renewable energy use from super low energy buildings with efficient cooling systems, smart features and renewable energy installations; a 70% reduction in freshwater demand from the dual-purpose sewage treatment plant, rainwater harvesting and water saving devices; and a 65% reduction in landfill waste with extensive recycling, food maceration and composting.
The plan addresses the UN Sustainable Development Goals (SDGs)1–a much-needed achievement given that Asia remains far from meeting any of the SDGs.2 In turn, PSI will become an advanced new ecosystem that serves as a model for the future of work, livability and sustainability around the world.
"The PSI Green Plan will accelerate the 'greenification' of Penang's economy, governance and infrastructure," the Chief Minister says. "It will enable Penang to reach its full potential as a high-income, low-carbon state that prioritizes the well-being of its people and the environment while providing a platform for innovative and sustainable-minded businesses to thrive."
The environmentally conscious, people-first masterplan also puts pedestrians, bicycles and water transport ahead of cars. The goal is to achieve a 70:30 public-private modal share, compared with 5:95 currently. To make that happen, PSI will include 140 kilometers of bicycle and walking tracks as well as seven kilometers of navigational waterway. These transportation pathways will reduce transport-related emissions by up to 80%.
"There will be generous provision of public open spaces island-wide (900ac), including beaches, mangroves, water canal, wetlands, flood plains and bioswales enhancing the biodiversity design of the island by connecting people with greens and water," the Chief Minister says. "It will also reduce the Urban Heat Island effect and reinforce the design resiliency towards flood, erosion and sea level rise."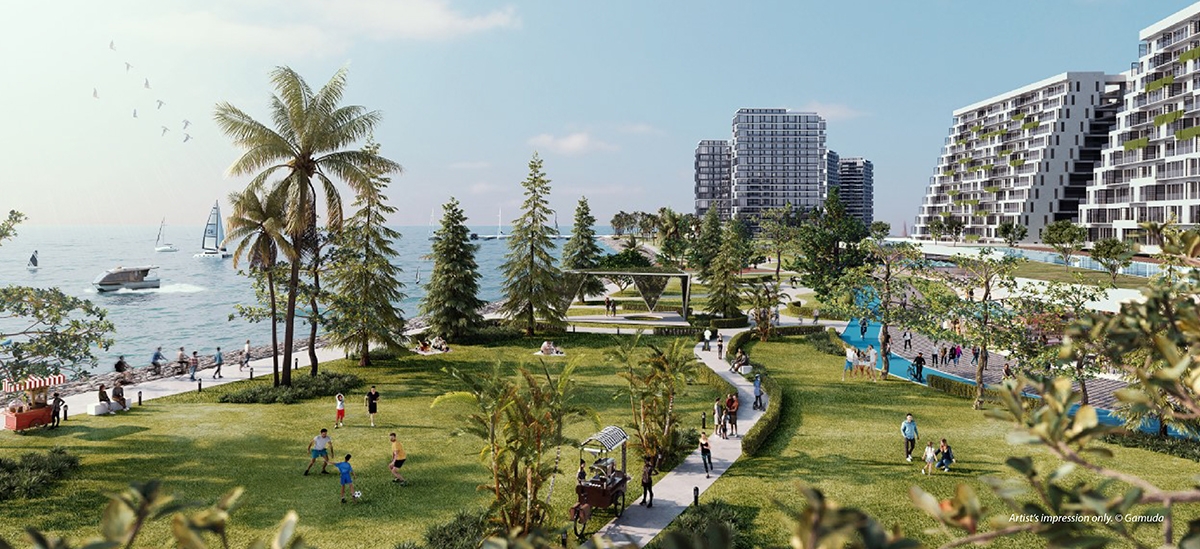 Expanding Penang's Tech Legacy
As innovative companies gravitate to Penang, PSI will fuel growth in the state's well-established tech manufacturing sector. Dubbed 'the Silicon Valley of the East,' Penang already produces 8% of global back-end semiconductor output.3 With end uses linked to 5G, autonomous vehicles and the IoT, chips made in Malaysia power some of today's most innovative products, making Penang a vital link in electronics supply chains.
Where Penang was a hub for labor-intensive manufacturing decades ago, today it designs and produces high-value-added technologies, that spans everything from integrated circuits and software to embedded systems. Penang's steady climb up in the value chain continues to attract some of the most innovative companies in the world. They are setting up Centers of Excellence, Design Centers and R&D Hubs to tap into the state's unique advantages. In the years ahead, PSI will provide space for more companies to do the same as they move up the value chain.
In 2019, Penang drew a record MYR16.9 billion ($4.1 billion) in manufacturing investments—nearly 90% of which went to the Electrical & Electronics, machinery and equipment, and scientific and measuring equipment (including medical device) sectors.4 In 2020, despite the ongoing Covid-19 pandemic, U.S. front-end semiconductor equipment giant Lam Research announced a USD225 million investment to build the group's largest manufacturing facility in Batu Kawan Industrial Park.5 The company will join dozens of tech heavyweights including Intel, which has one of the largest silicon design centers in Penang; Micron Technology, which built a center of excellence for solid state drives in Penang; and National Instruments, which has its largest R&D facility outside of the U.S. in Penang.
"Chip-making is a very complex process that requires manufacturing expertise," the Chief Minister says. "Through decades of hard work, Penang has developed the talent and know-how to meet the needs of technology companies around the world. PSI will build on those strengths, taking Penang's manufacturing capabilities to the next level while taking sustainability, the environment and lifestyle into account for businesses and their employees."
Source: Bloomberg.com