Soft launch of The Weld Heritage Square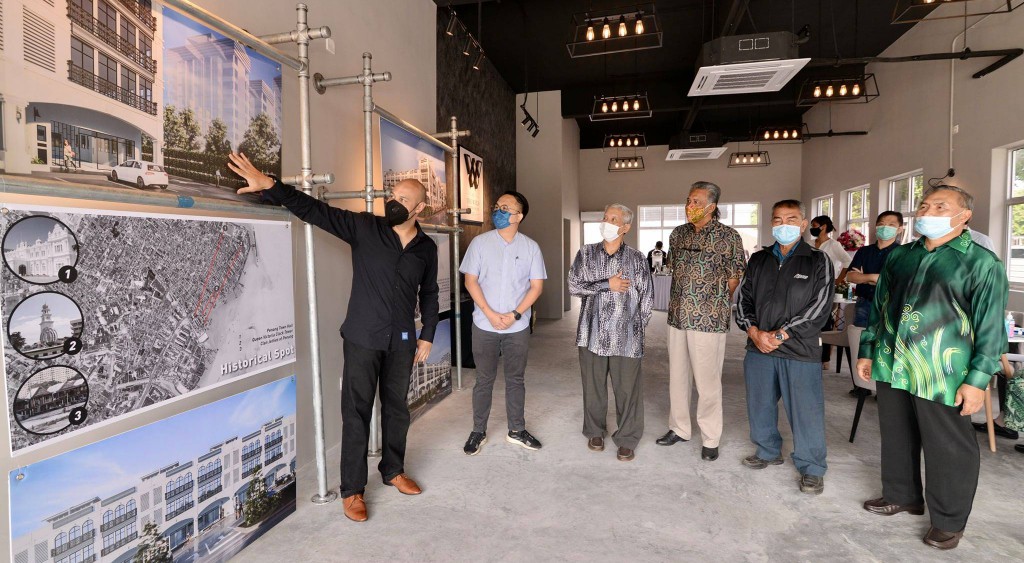 A new commercial project located in the buffer zone of the George Town UNESCO World Heritage Site at Pengkalan Weld is set to become a bustling arts and culture hub for the inner city.
The Weld Heritage Square, located adjacent to the heritage clan jetties, is spread out over 2.1 acres of land along Lebuhraya Merdeka off Pengkalan Weld.
The project, which is expected to complete by the end of 2021, is jointly developed by Adat Makmur Sdn Bhd and Koperasi Gabungan Negeri Pulau Pinang.
Adat Makmur is a residential and commercial property developer and a subsidiary of Zizi Holdings Sdn Bhd.
This strata-titled project has a Gross Development Value (GDV) of RM160 million and it consists of three and four storeys shop units.
Boasting a design that enhances its rich cultural heritage surroundings, The Weld Heritage Square is set to be a choice location for art galleries, restaurants, boutique hotels, offices and small businesses.
Zizi Holdings Sdn Bhd's Group Chief Executive Officer Mr Danial Zulkifli said the commercial centre was designed specifically to meet strict UNESCO World Heritage Site guidelines.
"It is located in the heritage buffer zone so we face the challenge of building a commercial centre that has to adhere to the strict building height limit of below four- storeys,"
"We are committed to complete this project and deliver a Penang experience in a commercial centre,"
"The project was delayed due to various reasons including court cases as there were settlers on this land and also due to my late father's poor health. He was managing the project at that time but unfortunately passed away last year," he said.
The development company, now under Danial's leadership, resumed the project recently and the project is now nearing completion.
The Weld Heritage Square is designed with generous parking space and large driveways. In between two rows of the shop units, an open space is set aside specifically to host cultural activities and street bazaars. The spacious open space is decorated with colourful murals depicting the lifestyle of the clan jetties and its surrounding areas.
"We want this space to become an arts and cultural hub and the open space is perfect for art events and festivals," Danial said.
He said the proposed Penang Art District development is located nearby so The Weld Heritage Square will be able to complement and cultivate a new art scene in the area.
Zizi Holdings' Chief Marketing Officer Ms Zahidah Zeid said the commercial centre will add colour and more activities to the busy area.
"We want this area to become an arts and cultural commercial area and we hope to attract other local businesses as well," she said.
"We look forward to filling this place with activities and to attract businesses from all sectors to be based here to serve the local residents and at the same time, serve as a landmark for tourists who are visiting the heritage clan jetties," she added.
Raine & Horne International Zaki + Partners Sdn Bhd Senior Partner Sr. Michael Geh said the team behind the project is very committed in completing the project.
"I believe this place, which is near the clan jetties and the Hean Boo Thean Guan Yin Temple, is a unique development and it can become a tourism hub and stimulate economic activities," he said.
He noted that the area recorded high foot traffic as visitors and tourists would walk along the road to head towards the clan jetties and the Hean Boo Thean Guan Yin Temple, a temple jutting out in the sea.
He said the project will do well as a location for existing businesses in the area looking for new shop units.
The soft launch of The Weld Heritage Square today (March 27) was graced by Pengkalan Kota State Assemblyman YB Daniel Gooi.
In his speech, YB Daniel said the development project will contribute greatly towards the local economy, as well as to support the state of Penang in its journey towards the recovery process post-pandemic.
"Situated at a strategic location, The Weld Heritage Square will serve as an important landmark linking the UNESCO World Heritage site, especially with its close vicinity to the world famous Clan Jetties area and the greater George Town area," he said.
The Weld Heritage Square is now at its final stages of completion and is expected to obtain its Certificate of Completion and Compliance (CCC) in the first half of 2022.