Esplanade seawall project progressing fast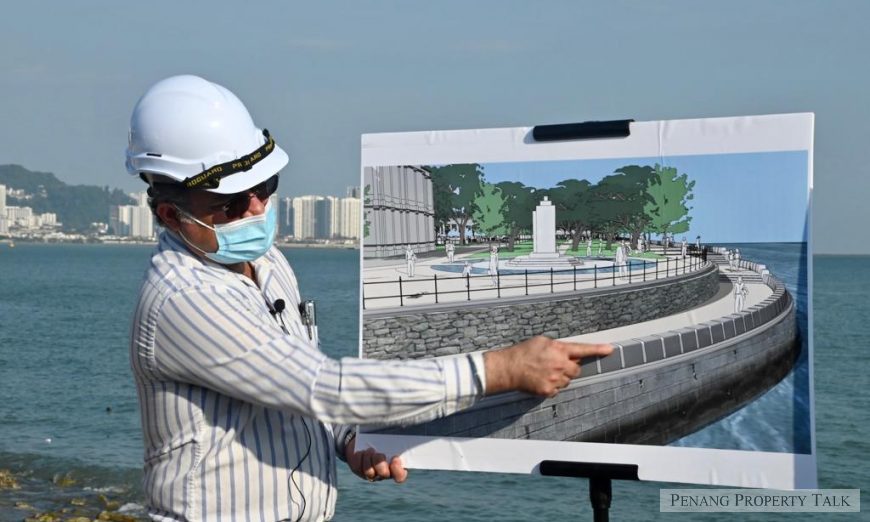 The new seawall project at Esplanade under the North Seafront Masterplan of George Town is making good progress together with an extended and much-improved public promenade between Dewan Sri Pinang and Fort Cornwallis.
State Local Government, Housing, Town and Country Planning Committee chairman Jagdeep Singh Deo, who visited the construction site to conduct a spot check, said the seawall would expand the area's limited public spaces and improve public amenities within the George Town Unesco World Heritage Site.
He added that the upgrading of the seawall, which stretches for about 570m from the Medan Renong food court to the Royal Malaysian Navy Base, is currently being managed by George Town Conservation Development Corporation (GTCDC) in collaboration with the state government, Penang Island City Council (MBPP), Think City and the Aga Khan Trust for Culture.
"The reinforcement of the Esplanade seawall is an important initiative aimed at upgrading George Town's northern waterfront, and it is now almost 50% completed.
"It is part of the North Seafront Masterplan which covers some 14 projects at a total cost of RM140 million.
"Apart from that, the new-look seawall will also help protect the popular promenade, that often attracts a large pool of visitors from raging waves," Jagdeep said during the site inspection at Esplanade with his entourage today.
He also added that the total construction cost is RM12.2 million, which was funded by the Penang government and MBPP while Think City contributed RM1.5 million for the detailed conservation study of the site and consultations.
"The construction works, which commenced in 2019, are now progressing rapidly. They are expected to be completed by the end of 2021. Works on the promenade walkway and its landscape are also in progress," Jagdeep added.
Source: Buletin Mutiara