Sub-agreement of Air Itam-Tun Dr Lim Chong Eu Expressway bypass to be inked on Jan 15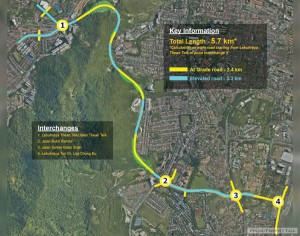 The Penang government and Consortium Zenith Construction Sdn Bhd (CZC) are scheduled to ink a sub-agreement in relation to the construction of a bypass from Bandar Baru Air Itam (Farlim) connecting to Lebuhraya Tun Dr Lim Chong Eu (Package Two) on Jan 15.
Chief Minister Chow Kon Yeow said the signing of the sub-agreement is necessary to observe a few matters such as the construction detailed design of the project and other issues.
CZC is the design and built contractor of the three major roads and undersea tunnel project.
The RM6.3 billion project will comprise the Air Itam-Tun Dr Lim Chong Eu Expressway bypass (Package Two), the Tanjung Bungah-Teluk Bahang bypass, the Gurney Drive-Tun Dr Lim Chong Eu bypass and the Gurney Drive-Bagan Ajam undersea tunnel.
"We are still in communication with CZC. We were told that there was a restructuring of equity in the company; as reported by an online media," Chow told a press conference in Komtar today.
Chow said the Penang government took note of the matter and would make an official statement after the sub-agreement is signed.
Source: Buletin Mutiara