Penang to go ahead with LRT and Penang Hill cable car projects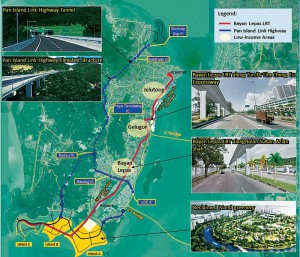 Penang will go ahead with its mega projects under the RM46bil Penang Transport Master Plan (PTMP) and also the RM100mil Penang Hill cable car project even without funding from the Federal Government.State Works Committee chairman Zairil Khir Johari said everything was still on schedule and any delay was only because of the Covid-19 movement control order.
"Yes, we have requested from the previous Federal Government to assist in the funding of the PTMP and we will continue to talk to the present government on this.
"For the Bayan Lepas Light Rail Transit (LRT) project, the model has always been to pay for the infrastructure project via land reclamation.
"No federal funding for this project is not an issue as we will raise the funds.
"Even for the cable car, there are always ways to do without federal funds. We are confident that all our projects will go on as planned, " said Zairil yesterday.
Some RM100mil was allocated by the Pakatan Harapan government during Budget 2020 last October for the proposed Penang Hill cable car project.
However, Putrajaya announced early this month that it had cancelled the funding for the project after Perikatan Nasional took over the Federal Government.
Last year, Penang also wrote to the Federal Government to appeal for a RM10bil funding for the LRT and Pan Island Link (PIL 1), which are components of PTMP.
Former prime minister Tun Dr Mahathir Mohamad had then proposed to the state government to issue bonds to fund the Bayan Lepas LRT project.
The RM9bil LRT line will begin from Komtar and pass through Jelutong, Gelugor, Bayan Lepas and the Penang International Airport before ending at the Penang South Reclamation (PSR) near Teluk Kumbar.
The PSR is a proposed project to reclaim 1,821ha of the sea to create three islands south of the airport towards the east around Permatang Damar Laut.
The state has proposed to implement the PSR project to raise funds for the PTMP.
The state received the Environmental Impact Assessment approval in July last year with 72 conditions attached.
Chief Minister Chow Kon Yeow had earlier said that the state was still working on finalising the details of the project delivery partner agreement and trying to get confirmation from the Federal Government on providing guarantee for the PTMP's financial arrangement with banks.
Source: TheStar.com.my