Councils to start hearing assessment rate objections today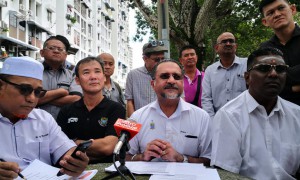 The first hearing session of the new 2020 assessment rate objections for both councils in Penang will be held starting tomorrow (29 October 2019).
State Housing, Town, Country Planning and Local Government Committee chairman Jagdeep Singh Deo said the hearing of the objections would be held by the assessment appeal task force team at selected locations under the administration of the Penang Island City Council (MBPP) and Seberang Perai City Council (MBSP).
"Every property owner who has filed a protest (against the new 2020 assessment rate) will be invited by a notice to attend the hearing sessions," he told during a media conference yesterday morning.
Jagdeep also said that MBPP had received a total 54,459 objections or 16.88% out of over 322,000 ratepayers while MBSP had received a total 40,666 objections or 12.42% out of about 327,000 ratepayers.
"Objections from 60 ratepayers will be heard at City Hall while 289 ratepayers will be heard at the Bertam Sports Complex," he said in a press conference this morning.
Subsequently, hearing will be held continuously until March 2020.
It is understood that only property owners who have made objections during the set period will be invited to attend the session.
For those who are unable to attend, may delegate by letter of authority to a representative. Failure to do so will result in the representative being denied representation in the interests of the dissent.
The sessions will be held at several locations as stated in the hearing notice. These include:
Penang Island City Council
City Hall, Jalan Padang Kota Lama
Bilik Perdana, KOMTAR
Balik Pulau Sports Complex
Seberang Perai City Council
MBSP Sports Complex, Bertam
MBSP Branch Office, Jalan Betek
Sony Complex
MBSP Jawi Branch Office