Cable car from Penang Botanic Gardens to Penang Hill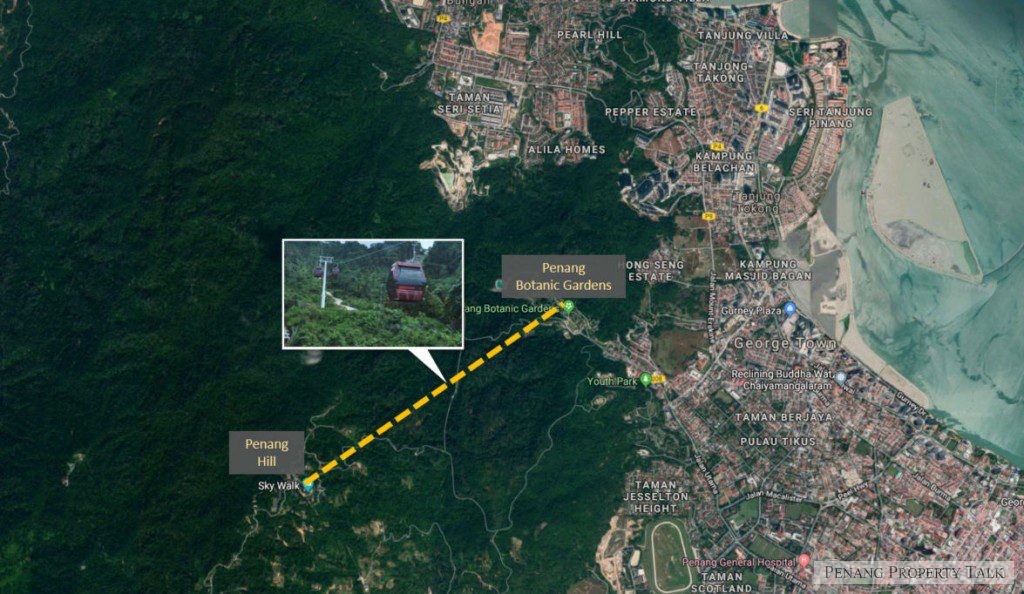 The Penang government is in the midst of studying a proposal to build a cable car project from the recreational park in Penang Botanic Gardens to The Habitat in Penang Hill.
Chief Minister Chow Kon Yeow said the proposal was to build the cable car alignment from Rifle Club at Penang Botanic Gardens up to the entrance of The Habitat.
"The plan is to have eight to 10 pylons from the park to the hilltop.
"In fact, the Penang Hill Corporation (PHC) has appointed a local consultant to conduct a pre-feasibility study of the project.
"There are also other alignments to be involved, which is from Penang Hill to Teluk Bahang.
"However, at this stage, the state is looking at connecting Penang Hill to Penang Botanic Gardens," he told a press conference after attending a luncheon dialogue session with Malaysian International Chamber of Commerce and Industry at St Giles Wembley Hotel today.
In the recent Budget 2020, the Federal Government had allocated RM100 million to the state government to build a new cable car project with any additional costs incurred to be borne by the state.
Chow added that the project initiative was mooted by his predecessor Lim Guan Eng.
In a related development, Chow said there would be adjustments to the cable car project linking island and mainland.
He said the adjustments to the alignment were from the Noordin Street Ghaut station to a place near the ferry terminal.
"It is still on track," he added.
Chow also revealed that the state and Rapid Penang were reviewing the free bus services. He pointed out that there were many empty seats on buses plying many of the routes.
"It incurs the state and Rapid Penang up to RM17 million annually for the free bus services," he said, adding that it would be reviewed to provide a better service to commuters.
Earlier, the dialogue session was held to discuss the public transportation network which was moderated by ThinkCity Berhad programme director Murali Ram while the panelists included Prasarana Malaysia Berhad group chief operating officer Muhammad Nizam Alias, Globetronics Technology Berhad chief executive officer Datuk Heng Huck Lee, Gamuda Berhad Transport Planning director Ooi Peng Hong and Chow.
Various modes of public transportation, including their benefits to the people, and suggestions on solving traffic woes were brought up during the event.
Those present also took the opportunity to ask the panelists questions pertaining to the state's transportation system.
Source: Buletin Mutiara