Iconic Point sold out during soft-launch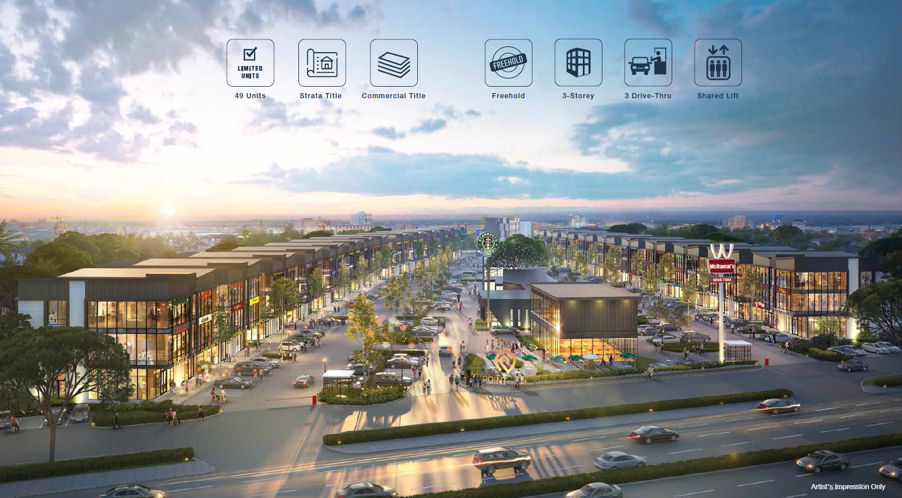 Iconic Worldwide Bhd's maiden property project Iconic Point has been 100 per cent taken up during its two-day soft launch at its sales gallery in D'Piazza Mall, Penang last weekend.
The company said Iconic Point is expected to become one of the key commercial centre and landmark in the Simpang Ampat township – a true game-changer for mainland Penang's dining and entertainment scene. The freehold development will be completed by the first quarter of year 2022.
Iconic Point is a joint venture between Iconic Maison Sdn Bhd, a wholly-owned subsidiary of Iconic Worldwide, and Iconic Development Sdn Bhd.
"This is the first time Simpang Ampat has seen such a development, with semi-detached & detached shop offices with individual shared lift concept, and the price we have set is very close to what we offered for Icon City when it was launched seven years ago," said Iconic Worldwide Bhd managing director Datuk Tan Kean Tet in a recent statement.
Strategically located near the junction of Jalan Permatang Tinggi and Jalan Bukit Tambun, just off the North-South Expressway, Iconic Point will enjoy great visibility to thousands of motorists passing by daily. The development is also a stone's throw away from the nearby KTM station, and in close proximity to mature residential neighbourhoods.
Sprawling across 8.7 acres, Iconic Point will feature 49 units of modern semi-detached & detached shop offices with individual shared lift.
There will also be three drive-thru food and beverages outlets with tenants such as Starbucks.
An elegant 4-storey boutique hotel sits at the end of the Iconic Point belt, providing visitors a place to rest their weary body while still remaining in close proximity to essential service outlets and loved ones, perfectly encapsulating the definition of an integrated lifestyle hub.
The 49 units of modern three-storey shop offices maximise convenience and efficiency by incorporating specially-designed shared lifts. Its commodious layouts make units flexibly suited to a vast spectrum of business – from retailed store, cafes, restaurants and pubs, to beauty salons, boutiques and more.
Source: NST Online