Penang to blacklist developers who force buyers to take up extras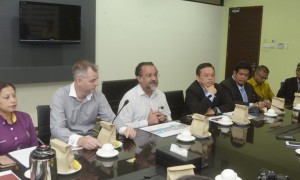 Housing developers in Penang have been warned not to force their buyers pay beyond the fixed prices for low-cost (LC), low medium-cost (LMC) and affordable housing units.
Developers who failed to comply with the warning could result in them getting blacklisted.
State Local Government, Housing, Town and Country Planning Committee chairman Jagdeep Singh Deo said the developers must abide by the price fixed for LC, LMC and affordable housing in Penang.
"If the buyer is willing to accept your packages, that's fine. But you cannot force him to take your packages.
"There were such cases before in the past, where developers offer renovation packages, additional car parks and others.
"However, developers cannot force buyers to take their packages. Let this be a warning.
"Please report to the Penang Housing Department if you come across such developers. I will haul them up and they will be ordered to show cause. We can also go to the extent of blacklisting them," Jagdeep told a press conference today.
The ceiling prices for LC is RM42,000 and RM72,500 for LMC.
It was reported that a few first-time home buyers had claimed that they were being forced to pay more than the price mandated by the state for LMC units.
Source: Buletin Mutiara