Owners of The Rise @ S.P Chelliah will receive their keys soon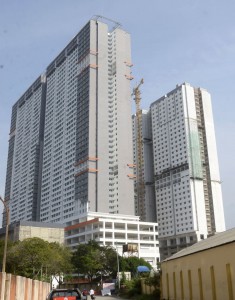 A total of 2,093 buyers of The Rise affordable housing near S.P Chelliah Road here will soon receive their keys as final clean-up work is being carried out by the developer, Zubicon Sdn. Bhd.
Housing, Town and Country Planning and Local Government Committee chairman, Jagdeep Singh Deo, when informed of the matter, expressed his excitement when the project, developed over three years ago, became a reality and boasted that it had amenities like those in luxury condos.
"I understand that the project will be delivered to buyers by the end of this month, and now the developer is in the final phase of cleaning and sales have reached 99 percent of the total 2,093 units.
"What's exciting about this is the Affordable Housing (RMM) project located in the heart of George Town with various amenities such as a children's and adult swimming pool, playground, gym and resource center.
"These facilities are not ours (the State Government) which demands that they are not in the guidelines, but this is a gift from the developer," he said, joking that the RMM project may be the first in a country to have such facilities with the sale unit price beginning. RM200,000.
Jagdeep also praised Zubicon's efforts to obtain a Green Building Index (GBI) rating for both projects (KSR and RMM).