Iconic Point – Soft Launch (7 & 8 Sep)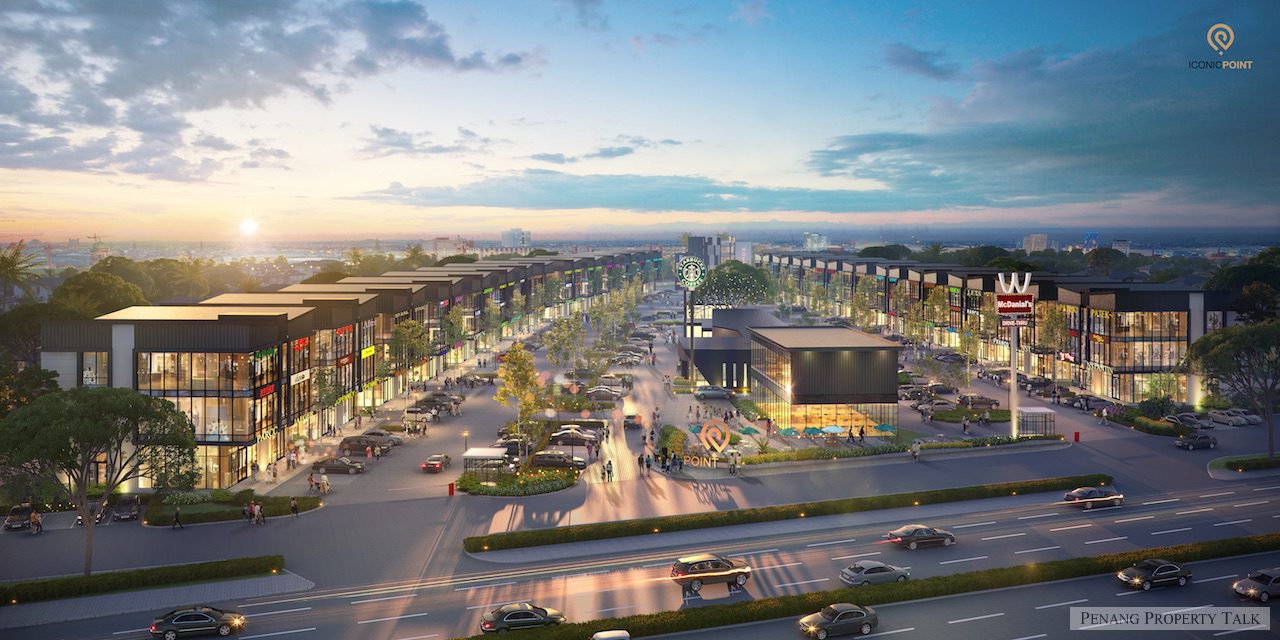 Icon City, the brainchild of trendsetting developer Iconic Development Sdn Bhd, sold out all their units in 20 minutes when it was launched 5 years ago in Juru, Penang. If you missed the chance back then, regret not, because a new golden opportunity has arrived in the form of its successor, Iconic Point. Soft-launching on the 7th and 8th of September, this freehold development in Simpang Ampat is designed to replicate the success of the original Icon City, today a well-known lifestyle haven with dining and entertainment options galore.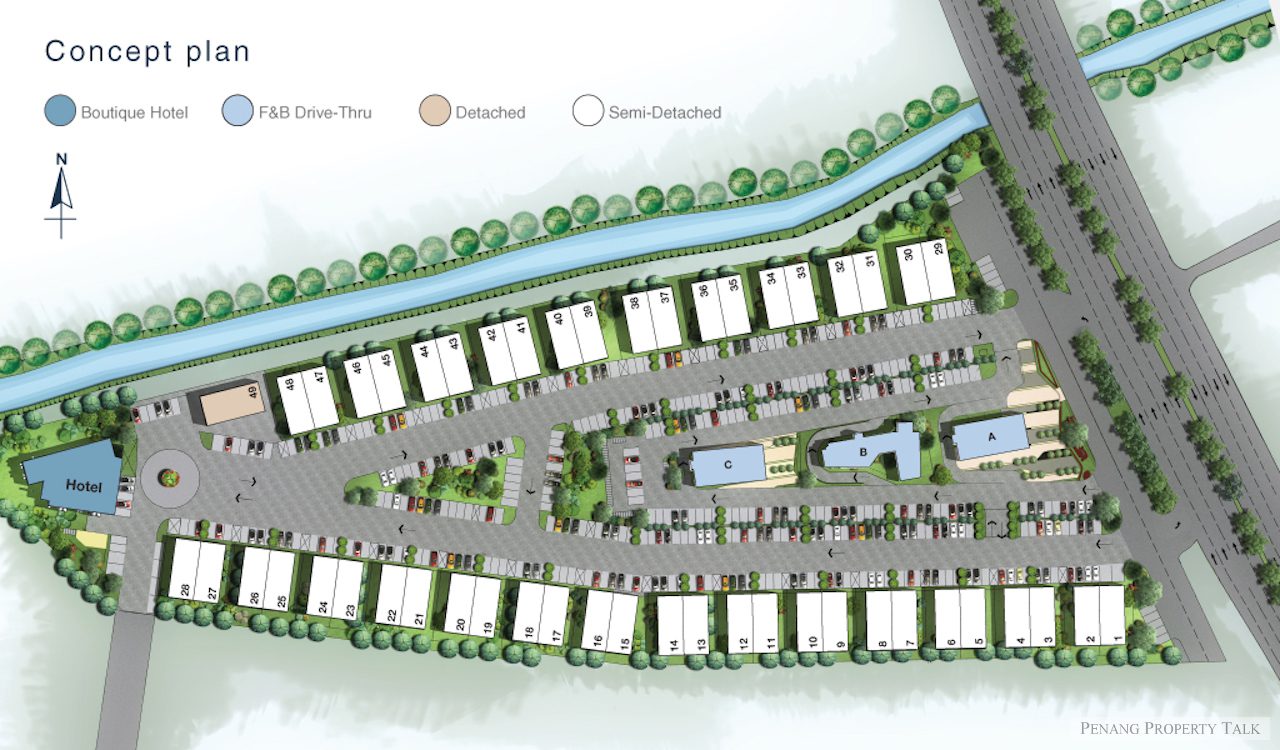 In the absence of a premier lifestyle center in Simpang Ampat, Iconic Point will be a game-changer for mainland Penang's dining and entertainment scene. Sprawling across 8.7 acres, Iconic Point will feature 49 units of modern semi-detached & detached shop offices with shared lift. There will also be 3 drive-thru F&B outlets with confirmed tenants such as Starbucks and more. An elegant 4-storey boutique hotel sits at the end of the Iconic Point belt, providing visitors a place to rest their weary body while still remaining in close proximity to essential service outlets and loved ones, perfectly encapsulating the definition of an integrated lifestyle hub.

The 49 units of modern 3-storey shop offices maximise convenience and efficiency by incorporating specially-designed shared lifts. Its commodious layouts make the units flexibly suited to a vast spectrum of business – from retailed store, cafes, restaurants and pubs, to beauty salons, boutiques and more.
Available in both semi-detached and detached configurations, the office spaces spark delight in your everyday routine thanks to its direct connectivity to retail stores just below, thus allowing the love for life to be rekindled here.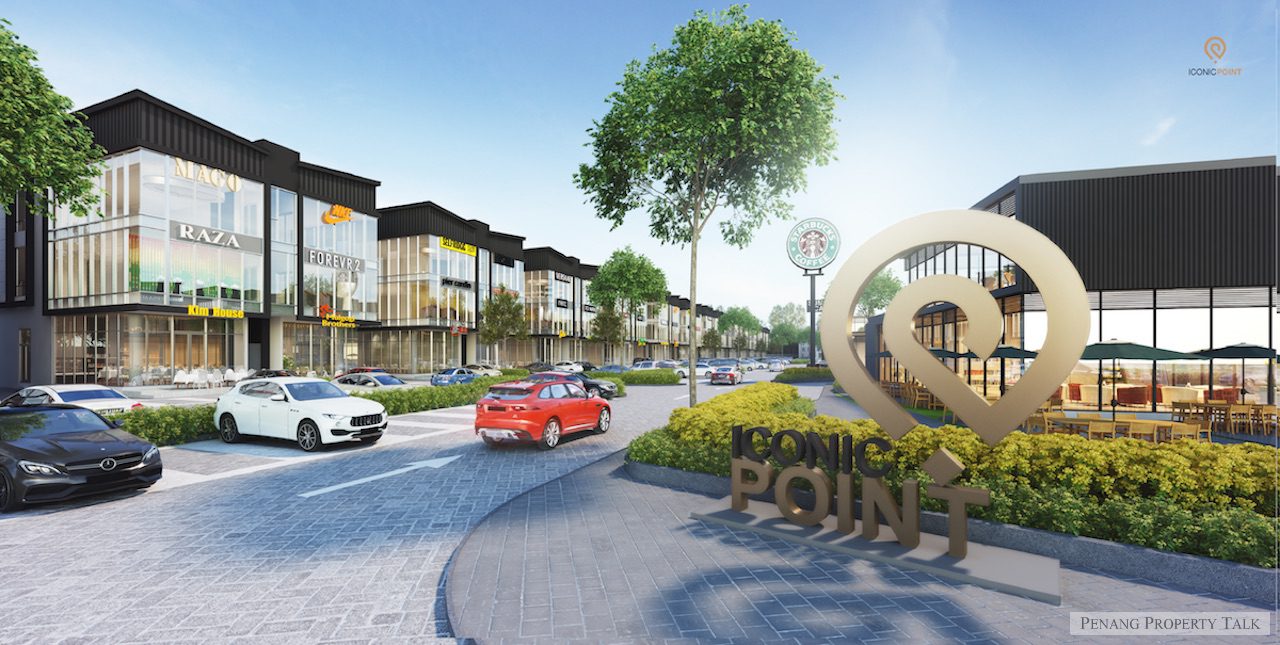 True to its name, Iconic Point is set to be the new iconic face of all-in-one convenience, leisure and entertainment commercial hub.
A great complementing to the lifestyles of modern individuals and families, it will be the place for one to swing by for a quick cuppa before work, have nice dinner with family, or enjoy a jolly weekend catch-up with friends.
Customers who drive will also find ample parking available, with around 600 car parking lots provided at basement and street levels.
Strategically located near the junction of Jalan Permatang Tinggi and Jalan Bukit Tambun, just off the North-South Expressway, Iconic Point will enjoy great visibility to thousands of motorists passing by daily. The development is also a stone's throw away from the nearby KTM station, and in close proximity to mature residential neighbourhoods. Other nearby amenities include the Design Village Outlet and IKEA Penang which are both 8km away, the Sultan Abdul Halim Mu'adzam Shah Bridge 11km away, and the Penang Bridges 15km away.
Enhancing the quality of life for those living around and within the area, Iconic Point offers a multitude of opportunities for business owners to spearhead success. Within this charming corner of Southern Penang, Iconic Point is projected to be the next major attraction to residents in the vicinity.
All that makes Iconic Point a great opportunity for those looking to set up a thriving business, or an investment with great potential for returns. Units are priced from RM2mil onwards. Highlight features that can be found in Iconic Point include
49 Units
Freehold
Strata Title
3-Storey Shop Offices
Drive-Thru Detached Shops
Shared Lift
Do not miss this golden opportunity again and check out Iconic Point at its soft-launch on September 7 and 8! It will be held at the Iconic Sales Gallery at Lot 70-1-30 in D'Piazza Mall, located along Jalan Mahsuri in Bayan Baru, Penang. The event will be on from 10am to 6pm on both days.
For inquiries or to RSVP, call 04 – 643 1888, 012 739 7999 or 012 739 7888.