Penang Govt optimistic of moving forward with urban regeneration projects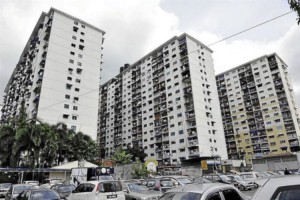 The Penang government is looking forward to positive news from the Federal Government concerning the implementation of urban regeneration projects in the state.
State Housing, Town, Country Planning and Local Government Committee chairman Jagdeep Singh Deo said they are waiting for Putrajaya to guide them forward in their efforts towards regenerating old housing schemes.
"They have either to amend existing laws or enact new laws. One of the main issues that we faced is the legality of the matter as strata properties, like apartments and flats, contain many units," Jagdeep told a press conference.
He was responding to an article, titled 'Flet ibarat sarang burung' in a Malay daily yesterday that Rifle Range Flats needed to be rejuvenated as it was very aged and dated.
"We fully agree with the article. In fact, Penang led by establishing the first-ever Urban Regeneration Committee in the country in 2015 which was emulated by the Federal Government in 2017.
"The issue is whether the consent of everyone is unanimously required or otherwise. Other jurisdictions, we don't need unanimous consent. We need a majority consent. In Singapore, it is up to some 75 to 80 percent if I am not mistaken. In fact, in Singapore there is a ministry for renewal, it's called the Urban Renewal Authority. It's that big.
"So, our rules have to be clarified. If necessary, laws have to be amended or new laws have to be made specifically for urban regeneration schemes."
Jagdeep said the state has plans to regenerate five old housing schemes – the 5-point block Mahsuri Flats in Bayan Baru, the Rifle Range Flats and the Taman Free School Flats on the island and the Mak Mandin Flats and the Jalan Siakap Flats on Seberang Perai.
The five projects involve a total of 5,469 units. According to Jagdeep, the state government has received a very good response from Mahsuri residents from 300 units, with a very high percentage of them agreeing to the regeneration project.
"We are now at the advanced stage of planning for the Mahsuri Flats regeneration. We now await the Federal Government to revert to us on the legal position in relation to such regeneration schemes," Jagdeep added.
He also said a series of forums were conducted by the Department of Director General of Lands and Mines (JKPTG) throughout the country, with the last one ending in Penang in February this year. It was co-organised with the state Land Office.
"The next step is that they will bring it to the National Land Council which will decide to amend laws or create new ones," said Jagdeep.
Also present at the press conference were Penang Land Office (Strata Division) senior assistant secretary Mohd Nizam Mokhtar and other officials from the state Housing Department.
Source: Buletin Mutiara