MARC Residences and Service Apartment
Jayamas Property Group continues to pledge on making quality property development via their tagline of aspiration "Your Home, Our Pride". Their latest addition of MARC Residences proven to be a distinguished development which features a stylish 26-storey skyscraper with only 110 residential units while MARC Service Apartment offers 40 units of accommodation for urban travellers.
Apart from featuring premium recreational facilities, MARC Residences and Service Apartment stands out with its dual and tri-key concept, which offers the flexibility of generating passive income while having the shelter of a home.
A dual key home is a residential unit that can be split into two. Both are self-contained and share a common foyer and single title. The owner can rent out each section separately to maximize their rental income. Tri-key concept, probably first of its kind in Malaysia, is an extension of the dual-key but with greater flexibility that allows the owner to rent one property conveniently to three different tenants.
Strategic Location
This impressive lifestyle development is strategically located along Song Ban Kheng Road (also known as Jalan Song Ban Kheng), the most prominent bustling road connecting to the heart of Bukit Mertajam town which has rapidly evolved from an agricultural area into one of the fastest growing town in mainland.
Song Ban Kheng Road's humble beginnings dated back to 1999, when it was built and named after Song Ban Kheng who became the principal for Jit Sin High School for about 20 years. Today, the road is a primary route in Bukit Mertajam providing connectivity among several public schools, residential and commercial areas. It is also the main access point for commuters going to neighboring towns, North South Expressway and even Penang bridge.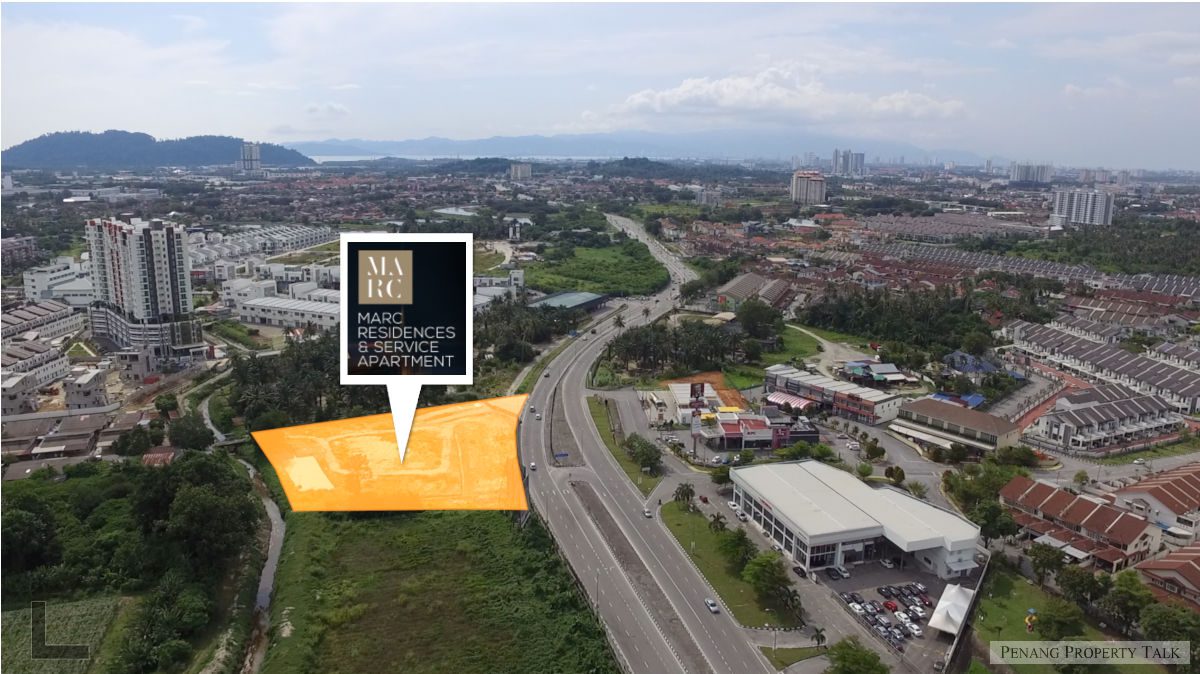 As locality is evolving over time, Song Ban Kheng road has been growing steadily towards becoming a desirable destination for business and property investment. Its geographical convenience has brought the rapid growth of urban population within the surrounding area and created abundance business opportunities. This is clearly evidenced with automobile service centers, hotels, financial institutions and popular eateries mushrooming within the neighbourhood in the recent years.
Certainly, those who are not familiar with Penang mainland property market would be surprised to discover that some of the residential and commercial properties near Song Ban Kheng Road have doubled in value over the past 5-6 years. In fact, today it could cost you well over RM1million to own a decent semi-detached house within the vicinity.
Investing for Passive Income
Should you have ever considered running an Airbnb or renting out your house to earn some income without the hassle of cleaning the rooms regularly or having the time to market and take bookings, then investment in MARC Service Apartment might just be the right choice for passive income.
When you are investing into a property for passive income, the old punchline "Location, Location, Location" still rules and remains the most crucial factor for profitability. Proximity to key commercial and industrial areas, workplace and highways are some of the major factors for its valuations.
Being centrally located within several industrial areas and with easy access to all major expressway, the prominent Song Ban Kheng road is set to experience continued growth with several more development projects in the drawing board; what more if hotel development is coming soon! The upcoming international hotel brand, coupled with high occupancy rate in hotels, is a clear sign of confidence in local rental and short-stay market.
With the scheduled launch of the MARC Residences and Service Apartment soon, it is set to bring a new playing field for local property investors in 2019.
For more details about this project, you may visit www.jayamasproperty.com
Register your interest here