Own a home with just 20% of the house price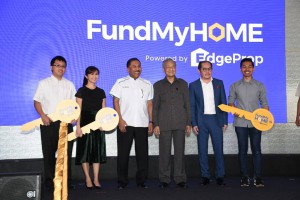 Homebuyers under the FundMyHome scheme not only has the opportunity to own a home at only 20% of the house price but could also tap the robust property market to enjoy investment return, said The Edge Group Chairman Datuk Tong Kooi Ong.
The innovative and inclusive homeownership scheme developed by EdgeProp Sdn Bhd, brings together homebuyers, institutions and developers under one roof to improve the overall real estate ecosystem.
According to Tong, in his presentation at the launch of FundMyHome today, the three main stakeholders in the industry have their own problems, for instance, homebuyers have difficulties in securing end-financing; developers want good sales and investors are looking for better return.
"FundMyHome is created to provide a game-changing solution to these challenges faced by first-time homebuyers. It enables homeownership without a bank loan, which means there will be no monthly repayments," he added.
Through this platform, homebuyers who couldn't get the mortgage loan could purchase a unit featured on FundMyHome.com with just 20% payment of the property price.
The balance 80% of the cost of the property is contributed by participating institutions, who share the returns from changes in the future value of the homes.
For the developers, they could get the 80% from the institution while the remaining 20% could be collected when the property is sold on the fifth year onwards, albeit only if the selling price is higher than the initial selling price.
Currently, the participating institutions contributing to the 80% portion of the home price are Maybank Group and CIMB.
According to Tong, for the investors, they could enjoy a 5% return from their investment.
Currently, EdgeProp.my is in discussions with the Securities Commission and Bank Negara Malaysia to finalise the terms and conditions as well as the framework of FundMyHome.
FundMyHome is open to all Malaysian residents above 18 years old, a first-time homebuyer and a non-bankrupt.
All homes on FundMyHome.com are either completed or nearing completion, enabling most buyers to move in soon after the completion of the buying process.
Buyers may also rent their homes out to earn rental income which could help to free up their funds for other pressing commitments and reduce their dependence on debt.
Under the FundMyHome concept, the homebuyer can choose to either sell or stay on after a fixed commitment period of five years.
Those who wish to stay can refinance the home via FundMyHome or with a normal bank mortgage. All this will be facilitated through FundMyHome.com.
Source: EdgeProp.my