The Largest Eco-themed Township In Penang – Setia Fontaines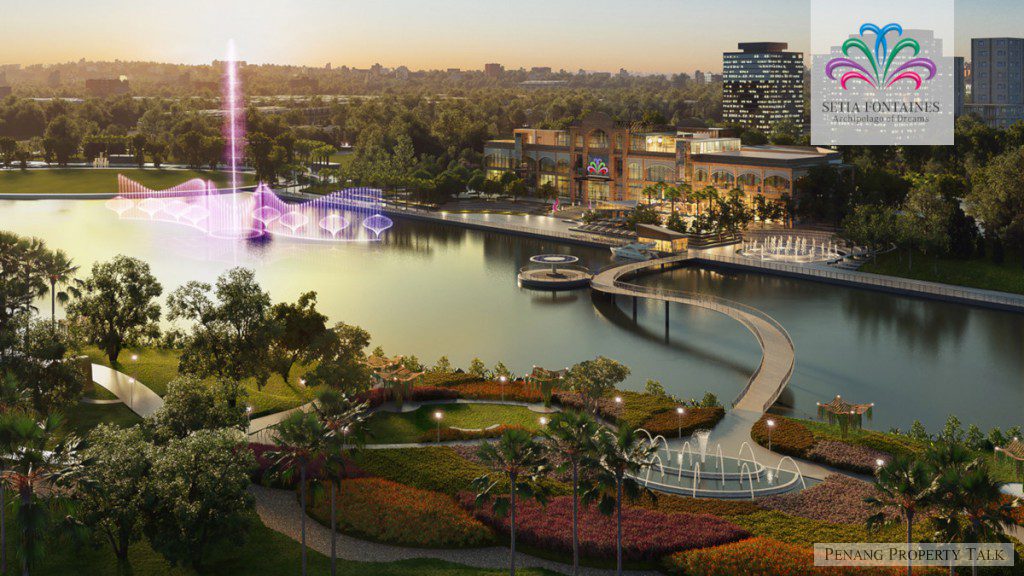 S P Setia, well-known for its signature eco-themed townships in the central region of Malaysia, has once again embarked on the next exciting chapter in their development plans by bringing their award-winning concept to Bertam, located at the Northern Seberang Perai. Setia Fontaines queueing up in the pipeline of S P Setia, will ultimately be proclaimed as the largest township development in Penang. Spanning across a 1,675-acre land, it has an estimated gross development value of RM13.05 billion, to be developed over the next 20 years. A total of 10,000 units modern homes have been planned, set in a nature-inspired environment with 100 acres of greeneries and a man-made lake.
Setia Fontaines is probably best described as a replicate of Setia Alam – a similarly themed development at Shah Alam, is now fast rising as one of the most sought-after addresses in Klang Valley. The project which was first launched in 2004 by S P Setia started from a large tract of oil palm plantation with little to no amenities and transformed into an international award-winning integrated and self-contained township with nature-inspired sanctuaries. Setia Alam is where the wholesome, back-to-nature ambiance is perfectly complemented by bustling amenities and modern facilities.
Setia Alam homes have increased almost 200% in its price since first launch in 2004. The first phase of its 2-storey terrace house which was priced at RM240k is now selling more than RM640k in the secondary market. With the rapid growth of commercial activities in Setia Alam, the shop offices have even appreciated more than 300% in price after 14 years. Setia Fontaines is no doubt has the potential to see similar success as Setia Alam.
As a matter of fact, Setia Fontaines is not only set in the similar environment of Setia Alam but with more perks! It is strategically located within the Butterworth-Sungai Petani growth corridor, next to Bertam Perdana and has good accessibility from the North-South Highway via the Bertam Interchange. It is only 15 minutes from Butterworth and about 20 minutes from Penang Bridge.
Complemented by abundant of existing amenities and facilities, including schools, banks, hospitals, malls and even a golf resort. There are also at least five tertiary education institutions located within a 5km radius, with a ready catchment of several thousands of students and educators.
Being easily accessible via federal roads and highways, Setia Fontaines is within 30 minutes drive from all matured townships in Penang mainland, Sungai Petani and Kulim. Well connected to an estimated total population of over 1 million within the region. Besides, the proposed Penang 3rd Link and Sky Cab will render commuting to and from Penang Island a breeze.
Today, more than 55 percent of Penang population lived in the mainland. The share of population living in the island has shrunk moderately over the years. This is mainly attributed to the relocation of people from island to the mainland for cheaper houses and employment opportunities. The trend is likely to sustain and it is expected to strongly influence the nature of demand for housing in the coming years.
Setia Fontaines master plan featuring the prominent eco-friendly concept is undeniably an ideal township for those eyeing for a bigger family capacity with a healthier and greener living lifestyle.
RELATED ARTICLES:
LOCATION MAP