Penang's property market finally cooling?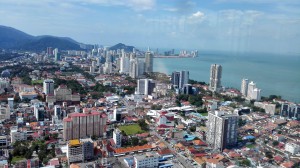 The property market in Penang is known as one of the most expensive in the country, with prices soaring over the years despite various cooling measures implemented by the authorities.
Recently, however, there have been signs of property prices stabilising and the state has even reported property overhang.
Since 2014, the Penang government has stepped up the development of affordable housing projects and imposed various measures in an attempt to keep property prices under control.
Among the prime locations in Penang are Gurney Drive, Tanjong Tokong and Batu Ferringhi, where properties are beyond the reach of locals as most of them are priced at above RM800 per square foot.
Factors that have contributed to the rise of Penang property prices include speculation, shortage of land on the island, an increase in the cost of building materials and the influx of foreign buyers, partly due to the weak ringgit.
State Housing, Town and Country Planning, and Local Government Committee chairman Jagdeep Singh Deo said since 2014, the state government had implemented various cooling measures to contain the property prices, which have gone up exorbitantly since 2008.
Moratorium
Among the measures implemented by the state government is the moratorium on the sale of houses. For low-cost and low medium-cost houses, the moratorium is 10 years, whereby the owners cannot sell their units within 10 years of purchase.
The moratorium on the sale of affordable homes costing below RM300,000 is five years. For higher priced houses, buyers cannot sell their property within three years of purchase or else they will be deemed as speculators and will need to pay a 2% approval fee.
"For foreign buyers, the state has imposed a few conditions. On Penang island, for instance, they cannot purchase landed properties priced at less than RM3 million and high-rise residential units costing less than RM1 million. On the mainland, they cannot buy landed properties less than RM1 million and high-rise units less than RM500,000.
"On top of that, foreign buyers are also subjected to a 3% approval fee," Jagdeep said.
Property overhang
Following the various cooling measures implemented by the state government, there have been signs that Penang's property prices are stabilising.
However, the authorities and developers are now facing another problem, namely property overhang which refers to built properties that have obtained the certificate of completion and compliance but remain unsold.
According to the National Property Information Centre, Penang had the highest number of overhang units in Malaysia last year with 4,903 units.
A study on property overhang carried out by the State Housing, Town and Country Planning, and Local Government Committee showed that out of the 4,903 overhang units, 2,600 were properties priced above RM500,000.
Real Estate and Housing Developers Association Penang branch chairman Toh Chin Leong, however, said property overhang was not a worrying sign as it could be due to the state's soft property market over the last few years.
Restructuring process
Jagdeep, who is state assemblyman for Datuk Keramat, said the housing and local government ministry was currently restructuring its housing programmes following the change of federal government after the 14th general election on May 9.
He said during his last meeting with Housing and Local Government Minister Zuraida Kamaruddin, she gave her assurance that Penang would not be neglected when it came to housing matters.
Jagdeep said during his meeting with Zuraida, he was told that the various public housing programmes, which are currently handled by different ministries, may be placed under one roof in the housing and local government ministry for more efficient monitoring.
"This matter is still under discussion and the minister will make an announcement once a decision has been made," he said.
He added that in Jelutong, two plots of land, each measuring 1.6 hectares, had been identified for PPR projects while a PR1MA project, involving 3,000 units, has been approved in Kampung Kastam at Jalan Bukit Gambir.
Source: Bernama