Townhall session for public to air concerns about PIL 1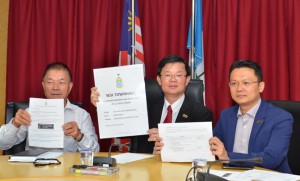 The state government will hold a townhall session on the Environmental Impact Assessment (EIA) for the proposed Pan Island Link 1 (PIL 1) on Thursday.
Chief Minister Chow Kon Yeow (pic) said the townhall session, to be held at Setia SPICE Convention Centre in Relau from 8pm to 10.30pm, would serve as a platform for the public to share their views and concerns on the proposed project.
"We are concerned about recent issues raised in the media pertaining to the PIL 1.
"In line with the administration's principle of transparency, we want to listen to the people and understand them," Chow said during a press conference at Komtar in Penang on Thursday.
Chow added that all issues raised and the respective responses would be forwarded to the Department of Environment (DoE) as part of the public feedback process for the EIA report.
He also said the period given for public feedback for the PIL 1 EIA Report (Second Schedule) is now extended to Sept 24, while all written comments from the public need to be submitted to the DoE on or before Sept 25.
"I am not required to be at the session, but will attend, anyway. Energy, Technology, Science, Climate Change and Environment Minister Yeo Bee Yin too might also be there," said Chow when asked if he would be present at the forum.
The public display of the EIA Report on the controversial PIL 1 Highway project was on public display at 10 locations in Penang and Klang Valley from July 11 to Aug 10.
Chow also said that he would be meeting Transport Minister Anthony Loke and Land Public Transport Commission (SPAD) officials in Putrajaya tomorrow on the Light Rail Transit (LRT) system.
"We will listen to SPAD on its alternative transport mode to LRT and would also present our case on the project."
"It has been two years since we submitted the proposed LRT line from Komtar to Bayan Lepas and we would like to know what they have done since then," added Chow.
Last week, Loke had said that the LRT might not be the best mode of transport for Penang and SPAD would propose an alternative to the state government.
Source: TheStar.com.my