Landslide at Tanjung Bungah affordable housing construction site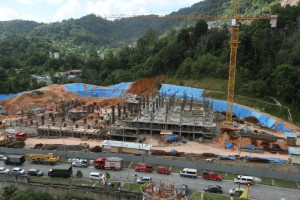 Rescuers have unearthed three bodies at the construction site hit by a massive landslide in Tanjung Bungah here today.
Penang Fire and Rescue Department director Saadon Mokhtar said the search was ongoing for 11 more people believed to be still buried underneath the muddy soil.
"We found the first two bodies at 9.15am and 10.45am while we found the third one at about 1pm," he told reporters at the site.
The three dead were among 14 construction workers including a local who were buried by the landslide.
He cautioned that efforts to locate the remaining victims would be slow and arduous as the slope is unsteady while soil conditions were muddy.
"We believe some of the victims are buried deep underneath the muddy soil, as deep as 35m below the surface," he said.
"We are also getting the canine unit to assist in the search and rescue operations," he added.
The workers had been working on the underground portion of the site when the landslide occurred, he said.
Saadon added that his department has detected other unsafe areas in the vicinity and ordered for all construction work to be stopped immediately.
In the 8.50am incident, about 20 construction workers were working at the site of the affordable housing project when the soil on the adjacent hill slope next suddenly collapsed.
A total 14 workers failed to escape and were buried by the mud and soil.
Search and rescue operations are still underway and the local authorities have also issued a stop-work order against the project.
The construction is for the Granito@Permai affordable housing project at Jalan Lembah Permai.
The development consists of a 49-storey building with two towers and 12 levels of car parks. It has 980 units for sale at below RM400,000 and was listed as an affordable housing project.
Source: The Malay Mail Online
Landslide location