PM expresses government commitment over affordable housing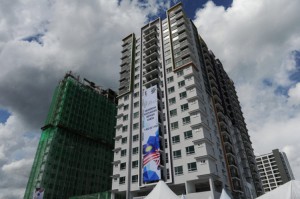 Prime Minister Datuk Seri Najib Abdul Razak today expressed the government commitment to continue to focus on providing more affordable housing for the low- and middle-income groups.
He said the concept of comprehensive and holistic development was most necessary to ensure that these groups had the capacity to own equity.
"It is for this reason that I recently changed the original criteria to the concept of well-being transformation. When we emphasise well-being transformation, it involves the question of property ownership.
"For me, property ownership is more meaningful than equity ownership for an individual because land is a substantial asset of value to our families.
"As such, we see housing development not solely from the perspective of an economic project but in the concept of development of the people and development of bumiputras based on the well-being concept," he said during a visit to the Casa Anggun housing project in Sungai Nibong here.
The second phase of the project involved the construction of 340 units of medium-cost houses of 800 to 900ft² at the starting sale price of RM324,000, twenty percent cheaper than the market price, and which were sold out in two days.
Penang Federal Action Council chairman Datuk Seri Zainal Abidin Osman, Penang Barisan Nasional chairman Teng Chang Yeow, Deputy Health Minister Datuk Seri Dr Hilmi Yahaya and Deputy Foreign Minister Datuk Seri Reezal Merican Naina Merican were also present during the visit.
Najib said the housing agenda was accorded high priority now because the people wanted and desired affordable houses.
"From the time I took over the leadership of the country in 2009, we assessed what the people wanted and realised that they wanted affordable houses. Affordable houses are close to the people's hearts. As such, we committed ourselves to building one million affordable houses in the whole country," he said.
Najib said the efforts to implement what the people wanted, covered various levels, including identifying land, either government or private, and cooperation from government agencies, for example in Penang, from JKP Sdn Bhd and the Penang Regional Development Authority (Perda).
The Prime Minister also said that government would consider an application by JKP Sdn Bhd to build 10,000 units of affordable houses on two pieces of land owned by the Agriculture and Agro-based Industry Ministry in Gelugor and Batu Maung here.
"If the Cabinet gives its approval, the project will become a reality. This is what we are doing. We want all groups to benefit," he said.
Earlier, Zainal Abidin, in his speech, said he hoped that the government could give special consideration to the application to build 10,000 units of affordable houses for the well-being of the people of Penang.
Source: The Sun Daily