Survey shows Penang is the happiest state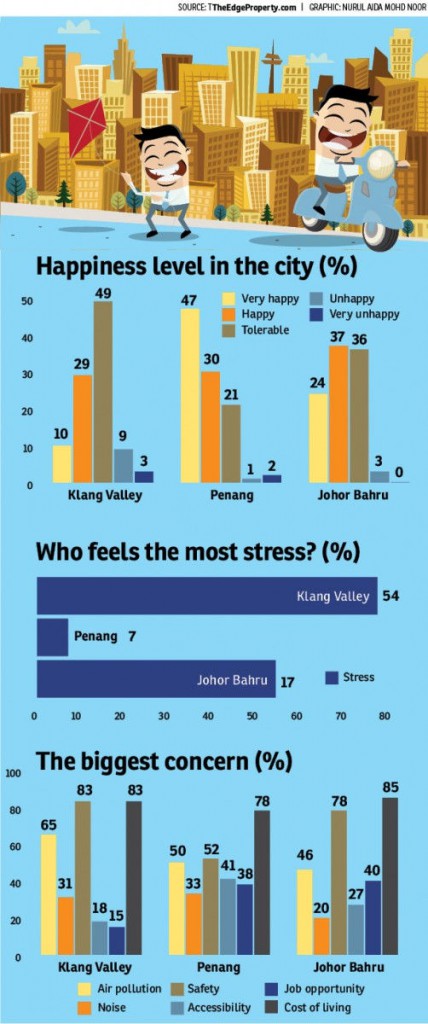 So it's true — Klang Valley folks are less happy living in the city compared with those living in Penang and Johor Bahru. That is according to TheEdgeProperty.com-Lafarge Happiness in the City Index 2017 survey.
The survey showed that as many as 49% of respondents in the Klang Valley found city life merely "tolerable" while another 9% and 3% were unhappy and very unhappy, respectively.
That's hardly surprising, but what will probably make us sit up more is that only 3% of Penang and Johor Bahru respondents were unhappy/very unhappy living in their respective cities.
Penang seems to have gotten the happiness formula right as 47% of respondents from the state said they were very happy while another 30% said they were happy. As for Johor Bahru, about 24% of respondents from there were very happy and 37% were happy.
Why are Penang and Johor Bahru folks so much happier than those in the Klang Valley?
Could it be something in the air? Or could it be that they are living in a less stressful environment?
TheEdgeProperty.com-Lafarge Happiness in the City Index 2017 survey found that 54% of Klang Valley respondents felt stressed out living in the city compared with only 7% and 17% Penang and Johor Bahru respondents, respectively.
"Generally, people living in urban areas especially big cities such as Kuala Lumpur face a lot of stress. Stress could come from dealing with traffic congestion, higher cost of living, and demanding jobs and workplaces," says Malaysian Mental Health Association (MMHA) secretary-general Datin Ang Kim Teng.
Ang tells TheEdgeProperty.com that stress is essential to keep one moving forward, but too much stress can lead to mental illness.
Citing a survey carried out by the Ministry of Health in 2015, she points out that 39.8% of KL folks have different levels of mental illness, such as stress, anxiety and depression. The figure was lower in Penang and Johor Bahru, at 19.1% and 22.2%, respectively.
"The findings of the ministry's study and TheEdgeProperty.com-Lafarge Happiness in the City Index 2017 survey correlate, although the latter mentions stress but not mental illness. However, as Ang said, if you are not handling stress carefully, it will slowly transform into mental illness," says MMHA president See Cheng Siang.
See says stress may also come from loneliness and the lack of an extensive family support, especially for those who are not originally from KL.
"KL is a migrant city — many people came here to further their studies and work. Most of them have to depend on themselves without the mental and emotional support of their families," he shares.
Ang also adds that many people choose to face their stress-related problems on their own rather than seek help because of the stigma attached to mental illness.
"There are many reasons for the number of people suffering from serious stress problems and mental illness. I think one crucial problem is that Asians still view seeking help from psychiatrists or even counsellors as a stigma," says Ang.
She stresses that mental illness is just like any other physical illness such as fever and flu. "You will go to a doctor if you feel feverish and your throat is sore, but why wouldn't you go to a professional if you are mentally sick?" Besides seeking professional help, other options that Ang and See suggest to de-stress are balancing out the time for work and leisure, talking to people and enjoying nature.
"It is proven that greenery will help you relax. However, I would not say KL people are stressed out because we do not have enough green spaces.
"Green spaces can help people de-stress only if people use them. Many people in the city would rather go indoors in their leisure time," See points out.
Source: TheEdgeProperty.com.my