Makeover of back lanes in George Town to start next month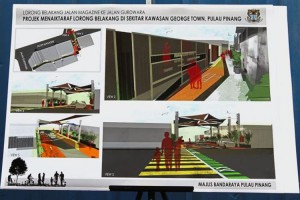 The goal of bringing life to under-used back lanes in George Town, Penang, is starting with the RM950,000 makeover of the one connecting Magazine Road and Gurdwara Road.
The facelift would involve an 870sq m area and is being touted as a pioneer project to beautify back lanes in the city.
"Some people might even ask if the city council is too free. But we are opening a new paradigm for locals.
"Maybe now, we can't see the benefits or social impact, but we hope perceptions will soon change," said state Local Government Committee chairman Chow Kon Yeow at the launch of the project makeover on Thursday.
Back lanes are a legacy of prewar town planning. They were needed for fire safety and to ensure air circulation for tightly packed shophouses.
These lanes were also for electricity poles and sewer lines.
Advances in engineering and town planning, however, left back lanes dim, unkempt and some unused.
Chow said the Magazine Road-Gurdwara Road back lane upgrade would be borne by M-Summit Global Sdn Bhd and the transformation would take around two months, starting from early next month.
He said two other areas slated for back lane upgrades were Keng Kwee Street and Hong Kong Lane.
Among the works to be carried out include upgrading the paving, lights, putting up canopies and planting trees.
Also present was mayor Datuk Patahiyah Ismail, who said a study had been carried out to identify suitable back lanes.
"A survey by the council was encouraging because 91.4% of respondents support back lane upgrades," she said.
She hoped it would make back lanes into cleaner, greener and safer places for pedestrians and cyclists.
Businesswoman K.H. Lim, 55, who runs a business near Magazine Road, said the lane had been a sorry sight for as long as she could remember.
"We hope it will bring betterment. If it becomes beautiful, many people will use it," she said.
Another businesswoman S.Y. Kuek, 60, suggested that the council look into the back lanes leading to Gama Supermarket and Departmental Store because locals frequently used those to reach the shopping centre.
Source: TheStar.com.my