Increase in contribution fee postponed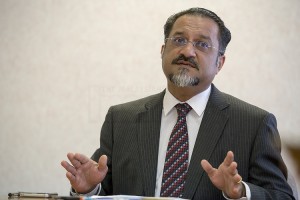 The Penang government has decided to postpone its decision to raise the contribution fee by developers who fail to build low-cost and low medium-cost housing until the year-end.
State Housing, Town and Country Planning Committee chairman Jagdeep Singh Deo said the state received complaints from Penang Real Estate and Housing Developers Association (Rehda) and other stakeholders after the new rate was imposed on Feb 1.
"Rehda wrote to me earlier and the state government had looked into the matter. I told the Chief Minister that instead of imposing the new rate immediately, the state should give the developers a moratorium.
"In the state exco meeting on Wednesday, we agreed to postpone the new rate until the end of the year so that they can have a transition period.
"However, I would like to remind developers to get ready for the new rate," he said when asked about Rehda's complaints at a press conference yesterday.
Jagdeep stressed that the state administration was a government for the people and not developers.
"You must understand the reason we have this contribution – the state government wants low-cost and low medium-cost units to be built.
"The contribution fee serves as a penalty to developers who do not build such housing units," he said.
Jagdeep said the contribution was being raised so that the state government would have the funds to build low-cost and low medium-cost housing.
"If you (developers) don't build, you pay. Then I (state government) build.
"And now, we have the Goods and Services Tax, the prices of steel are going up, and the construction cost of each unit is rising. That is the reason we increase the contribution from RM120,000 to RM150,000," he said.
A Chinese daily quoted Penang Rehda chairman Datuk Toh Chin Leong as saying the association had met the state government over the new rate.
Toh said the increase would affect the real estate industry in the state, and the developers might transfer the additional cost to the house buyers.
The state government strictly enforces the requirement for developers to build 40% low medium-cost units on the island and 30% low-cost units on the mainland in any housing development projects.
Only in certain cases deemed fit by the State Planning Committee will the developers be allowed to pay a RM120,000 contribution per unit in lieu of not building such units.
Source: TheStar.com.my