Komtar to have world's tallest mural soon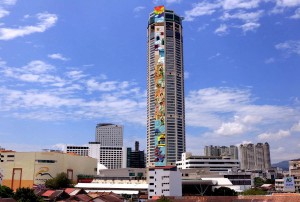 Five Malaysian artists are set to make their way into the Guinness Book of Records soon for painting the world's tallest mural on Penang's Komtar tower.
The World's Tallest Mural project, which is sponsored by Only World Group (OWG), will see the artists attempting to paint a colossal homage to the state and its people on the iconic tower.
Penang Chief Minister Lim Guan Eng said the state government was proud to support this endeavour, which would definitely put the state on the world map.
"Komtar is indeed a befitting canvas for this historic milestone, not only because it is the tallest building in the state but also because George Town is already world-renowned for its vibrant arts and cultural scene and this mural will definitely enhance the cityscape further in this sense," he told reporters during the announcement of the project at The Top in Komtar.
He said the mural, when completed, would be 230m tall, 13.1m wide, and would cost about RM300,000.
OWG chief executive officer Datuk Seri Richard Koh said they hoped to obtain endorsement from the Guinness Book of World Records for the project.
According to him, the world's tallest mural currently is 70m high, but Komtar's mural would be more than three times its height.
"The project is also in line with our ongoing efforts to revitalise the state's beloved landmark, which began with the opening of The Top@Komtar late last year," he said.
The mural project will start this month and is expected to be completed by October.
The five artists chosen to undertake the project are Bibichun, The Sliz, Kangblabla, Sattama and IMMJN.
Source: Bernama