Join hands over Penang home loan rejection issue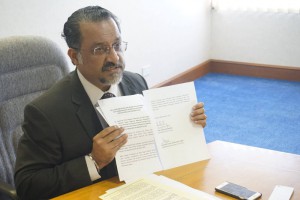 Penang Pakatan Harapan and Barisan Nasional (BN) submitted today a historic joint motion to the prime minister to address high loan rejection rates affecting home buyers in the state.
State executive councillor Jagdeep Singh Deo said state Opposition Leader Datuk Jahara Hamid had signed the joint motion together with Penang Chief Minister Lim Guan Eng.
"I believe this is a historic moment to have a joint motion signed by the chief minister and opposition leader.
"Never before in the history of Malaysia has both parties put aside their political differences to come together to help the people," he said.
He hoped that with the submission of this joint motion to Datuk Seri Najib Razak, a special taskforce will be set up to address the issue.
"I am sure there are a lot of consequential issues to discuss with Bank Negara, the Housing Ministry and other respective states," he said.
He also thanked Jahara for agreeing to sign the joint motion with the Pakatan Harapan state government.
"I hope we will be able to meet when a meeting is convened by the federal government on this issue," Jagdeep said.
The joint motion, signed on February 22, urged the federal government and Bank Negara to immediately resolve the high housing loan rejection rate by commercial banks, especially for low cost, low medium cost and affordable housing buyers.
The motion also urged the federal government to introduce a new housing policy to ensure that low cost and low-medium cost home buyers are not allowed to rent out their premises.
The current provisions under the Housing Development (Control and Licensing) Act, or Act 118, state only a standard format for the sales and purchase agreement for all housing units, without a special clause stating that low cost and low-medium cost units must only be inhabited by its owners.
The joint motion was sent with a cover letter to Najib today and copied to Bank Negara and the Urban Wellbeing, Housing and Local Government Minister Tan Sri Noh Omar.
Source: TheMalayMailOnline.com