Making George Town pedestrian-friendly, one back lane at a time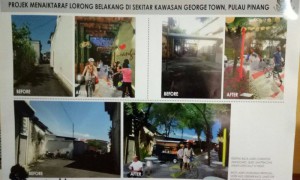 The unkempt and inaccessible back lanes of George Town will soon be upgraded, beautified and opened up for easy access to pedestrians and cyclists.
Starting with three small lanes first, the Penang Island City Council (MBPP), together with Think City, plans to renovate these, upgrade the drainage systems and widen them in accordance with the heritage zone's Special Area Plan (SAP).
MBPP secretary Yew Tung Seang said the plan was to turn these back lanes into recreational and relaxation spaces for the residents and passers-by.
"Currently, some of these back lanes are blocked, dirty and dark so we hope to open it up to make it easier for people to use these lanes to access another road safely without using the main roads," he said during an open dialogue with residents on the proposed back lanes project at Komtar this morning.
The opening up of these back lanes, which includes adding lighting, will turn these into easy and safe connections within the inner city for pedestrians and cyclists.
Yew said the council wanted to engage with the affected residents and house owners through a dialogue session before implementing the project, however.
The MBPP selected three back lanes for this initial proposal: from Jalan Magazine to Jalan Gurdwara, from Jalan Cheong Fatt Sze to Jalan Dr Lim Chwee Leong and from Lebuh Tamil to Jalan Dr Lim Chwee Leong.
All three lanes are near to the city centre around Komtar, where the state government's administrative centre is located.
Amongst the proposed upgrades are to turn these spaces into gardens, open air cafes and creative art corners.
"We are now obtaining feedback from the stakeholders before implementing it," Yew said.
The dialogue session was disrupted when a resident, Lim Eng Chew, started voicing safety concerns regarding the project.
"Have you asked the Bomba? What happens when there's a fire if you close up the lanes? How is the Bomba going to get in? Is the Bomba here today? You didn't even ask the Bomba," he shouted.
He went on about how he has lived there all his life and witnessed over 19 fires in the area in that time.
"Do you know if some vehicle blocked the entrance, the Bomba couldn't get in? I've complained to the council so many times about these vehicles blocking the lanes but nothing was done," he said.
He then continued telling the council in Hokkien that these back lanes are not spaces for "fancy cafes" and gardens but are meant as escape routes for residents in case of emergencies.
"These back lanes are for the people living there to get in and out, not for some project," he said and continued to create a ruckus without waiting for Yew to reply. Lim was finally ushered out after several minutes of continuous shouting.
Yew explained to the remaining stakeholders in the hall that the project will not close up the lanes or block access to the residents.
"The project was to open it up, beautify it and upgrade the lanes for the people there," he said.
Think City chief operating officer Neil Khor, who was also present, explained that the project will be similar to Think City's pilot Armenian Street back lanes project.
"This is not just a beautification project but a larger upgrading project for the whole of George Town according to the Special Area Plan and this also means improving the drainage system, creating a trench for the utilities so they don't dig up the back lanes when conducting their repairs and using special porous concrete to allow rainwater to drain off faster," he said.
In Think City's Armenian Street Back Lanes project, Khor said they worked with all the residents and stakeholders to get their participation in the whole project.
Read More: TheMalayMailOnline.com