APDL approvals to boost Penang market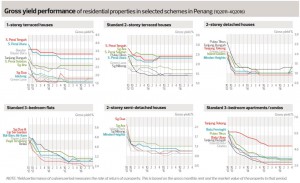 After waiting for months on end for their applications for advertising permits and developers' licences (APDLs) to be approved, developers in Penang breathed a sigh of relief recently — they have finally been given the nod. They are now busy with sales and purchase agreement signings and banking in of cheques, says Michael Geh, senior partner of Raine & Horne International Zaki + Partners Sdn Bhd.
To recap, Geh mentioned early last year that there was an inordinately long delay in the processing of APDLs. He said developers were waiting for 1½ years for what usually takes a month to process.
Now that the approvals have been given, the Penang property market is expected to see better times.
"The sales figures will surface in the first two quarters of the year," says Geh, when presenting the 4Q2016 Penang Housing Property Monitor.
A quick look at the monitor data reveals that the performance of the sector in last quarter of 2016 was flat, with very little price movements across the board. Geh says the quarter's data shows a "moderate" market.
However, he says, overall, the market was active last year, although it was affected by the soft market conditions. "The Penang property market was active throughout 2016 despite a slight dip in volume and value. A total of 13,539 properties, including residential, commercial, industrial, agricultural and development land, worth RM6.85 billion, were transacted up to the third quarter. For residential properties, there were 9,899 transactions worth RM4 billion in the first three quarters.
"The secondary market has remained stable with prices rising slightly."
Last year, there were issues regarding pre-war properties being purchased in large numbers by foreigners, but such purchases have slowed down in recent months, says Geh.
"However, this doesn't mean that such properties are not being transacted as there are still locals buying them for their own use. To date, foreign property purchasers of such properties in Penang have remained at 7%."
According to Geh's research, properties priced below RM500,000 were the most actively transacted in the state last year.
"If we look at the prices of properties transacted in Penang in the first half of 2016, most of them were between RM200,001 and RM500,000 (33%), followed by below RM100,000 (23%) and between RM100,001 and RM200,000 (20%)," he says.
"This shows that the demand for homes priced below RM500,000 remains strong while that for units priced above RM500,000 is expected to dip."
For the first quarter of this year, Geh expects transactions of properties priced below RM350,000 to be active. "There are a lot of homes priced RM350,000 and below on the market and many people are applying for bank loans. These are high-rise units on the island and landed properties on the mainland that are located further away from the popular areas like Bertam."
Other areas with such properties available are Relau, Teluk Kumbar and Tanjung Tokong, he says, adding that the property hotspots for the year include Bertam, Penang Sentral, Iconic City and Batu Kawan on the mainland, and George Town, Batu Maung, Persiaran Karpal Singh/Sungai Pinang and Bayan Baru on the island.
Penang opportunities
Geh highlights that world-class developers are eyeing Penang as a destination to partner local companies for property developments. However, he is unable to provide details at the moment as negotiations are ongoing.
He believes that as the state invests in catalytic projects such as the Penang Transport Master Plan, its economy will strengthen in the long run.
"My prediction for 2017 is that the transaction figures will grow and property values will remain high. If Bank Negara [Malaysia] relaxes the housing loan requirements, the market will definitely move again," he says.
"I am predicting a 5% increase in residential property transactions in the first quarter of the year. I am expecting Penang to register about RM1.13 billion worth of transactions involving 2,527 units. The market will remain robust, especially the secondary market, which is more active than the primary market with a ratio of 5:1."
With regard to new developments in Penang, it was recently reported that Eco World Development Group Bhd and the Employees Provident Fund will jointly develop 375 acres of prime land in Batu Kawan into two townships.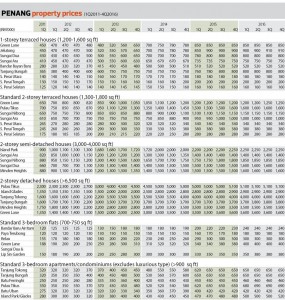 "The involvement of the EPF is a positive signal for Batu Kawan. It also shows the provident fund's confidence in Penang as a cornerstone of the development of northern Peninsular Malaysia," says Geh.
It was also reported recently that the development of the Business Processing Outsourcing Prime and Penang International Technology Park projects, worth a combined RM11.3 billion, has been deferred due to the current soft property market conditions. Geh says he is surprised at the move as he believes that the projects would have a catalytic effect on the state's economy. "It would have been good to commence the projects, taking advantage of the soft condition of the construction industry … the developers would have got good quotes. These iconic projects would have given the Penang property market a boost, construction-wise."
He adds that currently, the Philippines and Bangalore are outsourcing leaders, and if Penang does not jump on this bandwagon now, it may miss the opportunity.
Geh believes that with new jobs created for locals, the property market will see an upward trend, both in terms of transactions and rents.
A rather flat market in 4Q2016
According to quarter-on-quarter data, there were no price movements for all property types, except for standard 3-bedroom apartments/condominiums in Island Park/Glades, which saw price growth of 4% to RM520,000 from the third quarter. Property prices in Island Park/Glades also rose 8.33% from the previous year, making it the only area in the monitor that showed quarterly and yearly growth.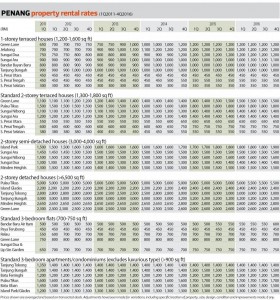 Overall, the year-on-year price growth in the other areas surveyed was marginal or flat.
In the 1-storey terraced house category, only those in Jelutong saw price growth of 1.11% to RM910,000 from a year ago. For 2-storey terraced houses, prices of only those in Green Lane rose 4.17% to RM1.25 million.
The 2-storey semi-detached house segment was a bit more active with those in Sungai Dua and Minden Heights achieving 6.67% price growth to RM1.6 million, and those in Sungai Nibong registering a 2.78% increase to RM1.85 million.
As for 2-storey detached houses, the prices of those in Tanjung Bungah rose 2.7% to RM3.8 million.
Standard 3-bedroom flats in Sungai Dua and Lip Sin Garden saw the highest increase in prices, at 8.57% to RM380,000 from a year ago, followed by those in Green Lane (up 5.26% to RM400,000) and Bandar Baru Air Itam (up 4.35% to RM240,000).
As for condos and apartments, those in Pulau Tikus saw price growth of 6.15% to RM690,000 while those in Batu Ferringhi appreciated 2.22% to RM460,000.
Source: TheEdgeProperty.com.my