Ramah Pavilion – Combining luxury with affordability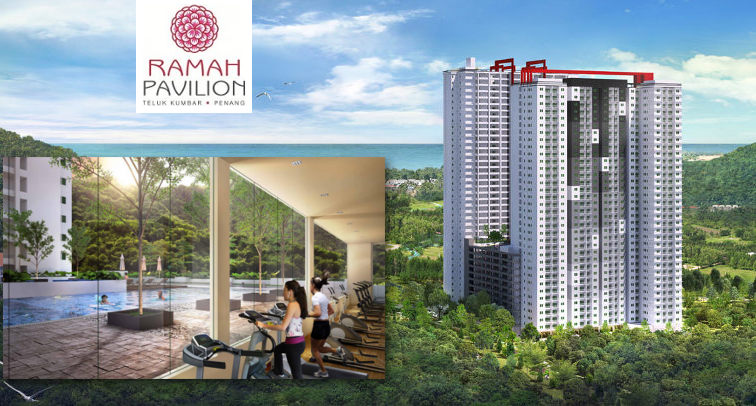 M Summit Group recorded a new milestone through its latest project combining luxury with affordability in an exciting way for Penangites. They are the first private developer to take on Penang's affordable housing scheme and taking it on "in style".
Ideally located with panoramic seaview and lush greenery
Ramah Pavilion, comprises two blocks of 39 and 36 storey, is billed as one of the first private affordable housing developments to be completed in Penang. As of January 2017, the facade and foundation of the new resort-style condominium has been built hence providing an idea the size of the building along with the selection of on-site amenities.  Even at this stage of construction, it is obvious that the end result will be a modern building that embraces the landscape around it, offering lush views of many of the hills and greenery surrounding it. There will definitely be some impressive panoramic seaview from the upper floors.
Ideally located for both families and business professionals alike; situated within the township of Teluk Kumbar, with the new Yong Chern Chinese school just minutes away (perfect for busy mornings with the kids!) and the Penang International Airport less than a 15-minutes drive away. Upon the completion of the federal road upgrade from Teluk Kumbar to the Penang International Airport, the location of Ramah Pavilion will become more accessible and convenient as the new road will massively enables a smoother drive to Bayan Lepas Free Trade Zone and the airport. Furthermore, the proposed government reclamation off the southern tip of Penang Island and the creation of three new man-made island will be one of the greatest catalysts for both residential and commercial growth at the southern part of Penang Island, especially in Teluk Kumbar.
Resort-style living with rooftop garden
The freehold, high-rise resort-style living at Ramah Pavilion features top-of-the-line amenities like pools for both adults and children, a Jacuzzi for chilly nights, an expansive indoor and outdoor playground for children, a game room for all ages, a relaxing reading room/library, a barbeque area that is perfect for hosting family get-togethers and events with friends, and indoor and outdoor function areas for groups large and small. The state-of-the-art indoor function hall with air conditioned atmosphere and a full scale kitchen accommodates up to 300 pax of seating subsequently permits catering event; starting from largest weddings, reunions, up to birthday parties while being literally at home at the same time!
One of the most unique features that Ramah Pavilion condos will offer is a huge, one-of-a-kind roof-top garden where residents can grow organic vegetables year round. This allows you to enjoy urban city living while still having land to cultivate your favorite fruits and vegetables. M Summit Group is even planning on bringing in gardening experts to help residents grow vegetables in the roof-top garden and to answer questions or concerns that residents might have about urban gardening.
Speaking of the best in urban city living, the spacious condominium of Ramah Pavilion, which range from around 800 sq ft to about 1,350 sq ft are built over a ground storey of premium businesses, including on-site laundry, a convenience store, a hair dresser and salon as well as restaurants and a grocer. Tenants will be carefully selected to ensure the residents feel safe from any unwanted activities.
Security as top priority
Ramah Pavilion, focusing on the security of residents as top priority, promises an enjoying affordable urban living that doesn't have to come at the expense of your safety. Both the businesses located in Ramah Pavilion and the residential areas will be monitored by security. Ramah Pavilion offers an on-site three-tier security system which will monitor and protect the premises and residents 24 hours a day. Ensuring utmost privacy, resident's access key card is only accessible to the floor(s) which it's programmed.
Quality is the focus
One of the key features that sets Ramah Pavilion apart from other affordable housing is the focus on quality. No expense has been spared in this development, and the high-rise units will feature top-of-the-line building materials carefully selected by the developer and its construction professionals. Offering 6 design types catering young, single professional or a more mature family raising children
In even more surprising news, the fact that Ramah Pavilion units are already 85% sold doesn't halt the developer from upgrading amenities and features on the condominium. Instead, the developer has opted to offer high-quality finishes like anodize aluminum windows and sliding door frames with tempered glass that meets high safety standards and resident expectations.
Affordable price and easy ownership
Selling price for Ramah Pavilion open market unit starting at just RM468K for 1,150 sq.ft. with two car parks, as well as some renovation options to the homeowner at no additional cost. Do expect a move-in conditioned home with air conditioning piping, plastered ceilings, build-in water heaters and upgraded 60cm x 60cm porcelain tile, an added grill main door, shower screens in all bathrooms, and additional power points in each home. Best of all, the developer will absorb bank interest incurred until vacant possession.
You are invited to view the show unit which is available on site during the topping-up event to be held on 30 January 2017 (3rd day of Chinese New Year), with Penang Chief Minister as the Guest of Honor. Food will be provided.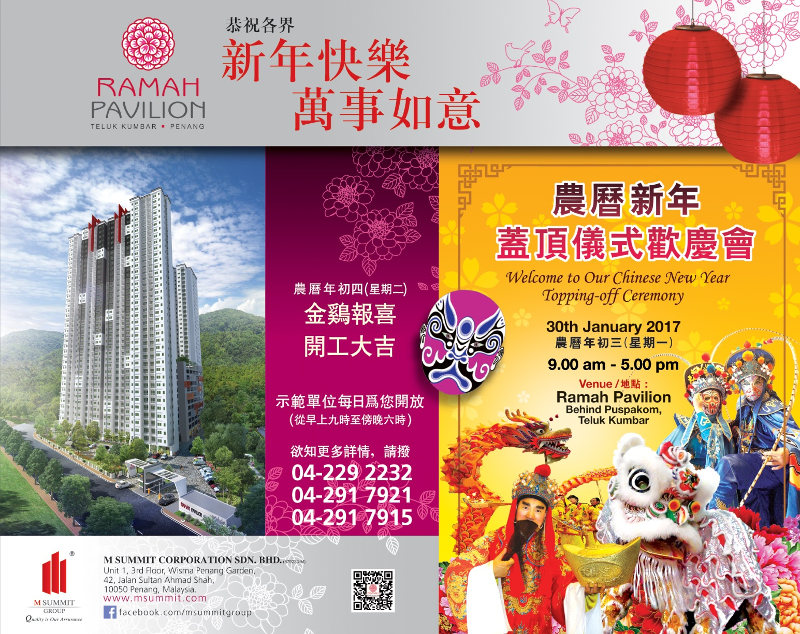 Meet up personally with M Summit Group on 30 Jan for a deal that's definitely not to be missed! Or you may also call 04-2292232/04-2917921/04-2917915 to arrange for a personal meeting and viewing of the show unit.
Site Location