Rainbow Skywalk set to open at Komtar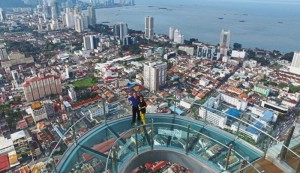 Only a lucky few have ever been to the top of Komtar since it was completed over three decades ago.
Now, 68 floors and at almost a quarter of a kilometre from the ground, it has the highest skywalk in the country.
The Rainbow Skywalk is a semi-circle glass path that juts several metres out of the building, and it is not for the faint-hearted.
"We've seen many people who cannot shake off that acrophobic dizziness when they step onto the glass. Some will not even try.
"But many love it. You can lie down and take a selfie with the little buildings below as your background. It is a rare opportunity," said Only World Group (OWG) chief operating officer Datuk Jean Koh.
The glass was heat-treated, temper-proofed, laminated and is the same glass flooring used in America's Grand Canyon Skywalk. Universiti Sains Malaysia ran a barrage of vibration, wind and pendulum tests on it.
From the ground, you can see the Rainbow Skywalk if you are standing near the junction of Penang Road, Macalister Road and Datuk Keramat Road.
The old roof used to be a helipad when the monolith was 65 floors. OWG topped it up with three more floors, did away with the helipad and transformed the roof into an attraction.
"Komtar is the pride of Penangites. It was once the tallest building in South-East Asia. When we first went up, the view took our breath away and we instantly started thinking of how we can get people to enjoy their trip to the top," she said yesterday.
Video taken by Penang Property Talk in August 2016

OWG, a listed company that specialises in F&B and leisure attractions, won a 45-year lease on five levels of Komtar in 2012 and is on a mission to revitalise the building.
The company began with 5,574sq m in the complex and they are now using about 28,000sq m of floor space to turn Komtar into a leisure destination for Malaysians and tou­rists alike.
The official opening is on Dec 18, with many more delights being constructed on the roof, but OWG chief executive officer Datuk Seri Richard Koh is keeping the details secret.
"The best pleasures in the world have to be surprises. If I tell you everything, you will know what to expect when you get to the top.
"But, I will tell you that besides the skywalk, you will have the chance to sit on the luckiest chair in the world up there," he added.
Read Source: TheStar.com.my