Is affordable housing a good investment in Penang?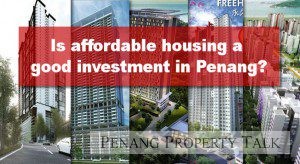 Affordable housing has been the key growth driver for Penang residential property sector in the past two years. Today there are already 17 projects under construction while at least 26 more are in the pipeline.
Aiming to stimulate the sale of affordable housing, the developers are allowed to sell 30% of the affordable housing to the open market with 10-20% price premium. That in fact has stirred up the interest in buying a second home for investment among Penangites.
"Is affordable housing a good investment Penang?" continues to be one of the most common yet frequent question addressed to us at Penang Property Talk. Prior to sharing food for thoughts, it is crucial for potential investors to fully digest the fundamental facts about affordable housing in Penang.
Purpose built housing
Affordable housing is purpose built for first time home buyer. It is conclusive to quote that most of the units are cautiously planned and well sized for individuals who are at establishment period in their career stage, young marriage couples who are settling in for a new home. For upgraders envisioning for a larger spacious home, affordable housing units will emerge to be inadequate for a matured growing family.
Be mindful that your potential buyers in the future are most likely to be a first time home buyer, who has a comparable budget of around RM300K – RM400K. Selling a first time buyer house at a much higher price tag in the future is definitely a gigantic challenge.
Abundant supply
Owning a brand new home in Penang Island used to be a dream, for some. The attractively priced affordable housing has now turned some of those dreams into reality. Many opportunistic buyers instantly draw a conclusion for a need to quickly grasp this golden advantage and compelled to buy an affordable unit as their second house for investment. Nevertheless, when realization starts to kick in on the fact that there will be abundant supply of affordable housing units in near future, the interest level on affordable housing projects cools down significantly.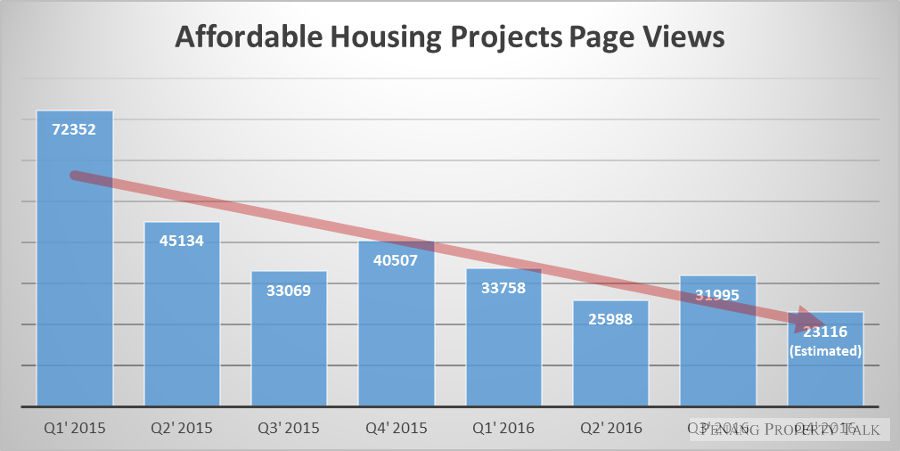 Indeed, an observation from Penang Property Talk is that despite the significant increase in affordable housing projects, the affordable housing project listing page has registered a consistent decline in page views over the past two years.
Impact of price control
From an investment perspective, it is a norm to typically refrain from whatsoever that has a price control in place. Of course, unless you are the one controlling the price. Obviously, there is no exception in affordable housing. The price of a house is likely to be influenced (indirectly controlled) by the affordable housing scheme that will be launching in the future.
Some individuals may have the perception that a higher selling price can be set for a unit after the 5 years cooling period. But there is no reason for someone to pay a much higher price for that unit when there is a continuous supply of affordable houses which are selling at a cheaper price. Not to mention the falling relative prices of the secondary unit as it ages.
In fact, the ceiling price for new affordable house has been lowered from RM400K to RM300K. In other words, there may be more affordable housing units in the pipeline with a cheaper price tag.
Lack of differentiation
Being able to sell a house promptly is as important as buying it cheap in the first place. In property investment, standing out from others is always an advantage when you are selling. House number, facing, floor level, layout, locations are some of the critical decision factor. Some design type may have advantage over other design types, depending on individual preference.
But in affordable housing, some of these selling points may not applicable because there may be thousands of unit of the same type in one project. You may also find the same unit and floor number in other blocks.
In a worse situation, affordable housing in secondary market may eventually become like "commodity" where pricing is the only decision factor. Property agents will simply need one classified listing per project to sell their stock since there is only one design type. In such cases, the seller will lost their bargaining power and the lowest price unit will likely to be sold first.
Food for thoughts
If you are a first time home buyer searching immensely for your dream home, affordable housing is absolutely one of the extremely beneficial options. However, do not rush to hurriedly jump to conclusions. Choose wisely within your means. A glamorous location does not necessary mean the right location for you.
* Click here for the full list of affordable housing in Penang *
For those who are buying affordable housing as an investment, comprehend and invest objectively. Affordable housing and a great financial investment are mutually exclusive. Unless you are fully equipped with a very good plan in buying affordable units, otherwise differentiation would be the key to a safe property investment in the current market situation. If you can afford, a larger yet spacious home or a development with unique offerings might be a better bet.
– Ken Lim
(Founder, PenangPropertyTalk.com)