Aspen Group investing in next gen technology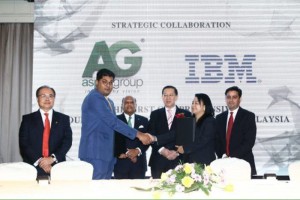 AG Innovation Sdn Bhd (a subsidiary of property development and real estate investment company Aspen Group) is collaborating with IBM Malaysia Sdn Bhd to create the first comprehensive cloud infrastructure and technology services platform in Malaysia. The cloud innovation platform, hosted in Penang, is designed to serve local and international users.
The collaboration involves the purchase and subscription of IBM Blue Box, Bluemix, application development, technical services and consultancy for Aspen Group to create cognitive and next generation solutions and services globally.
The collaboration was sealed today by Aspen Group's chief executive officer Datuk M. Murly, the company's executive director Woo Kok Weng, IBM Malaysia managing director Chong Chye Neo and IBM Cloud for IBM Malaysia's general manager Arshad Munir Sharif. Penang Chief Minister Lim Guan Eng and Aspen Group's chairman and executive director Datuk Seri Nazir Ariff Mushir Ariff witnessed the event.
Aspen Group said it will invest RM10 million in this next generation technology to aggregate expertise and skills to usher the adoption of cognitive apps among Penangites and Malaysians.
In a joint statement, Aspen Group and IBM Malaysia said the availability of the cloud innovation platform would also spur a culture of innovation among students and enthusiasts. "The strategic collaboration would also enable a vibrant and agile eco-system that will provide a platform for multinationals, local businesses, start-ups and residents to scale their participation in the digital economy." the statement said.
"The economics of cloud computing," Murly noted, "can potentially change the game for many businesses. "We envisage new forms of business models would emerge by providing the platform for innovation to happen. "I believe this will trigger a massive wave of innovation from techno-preneurs," he added.
Meanwhile, another Aspen Group subsidiary Aspen Vision All Sdn Bhd, today signed a collaboration agreement with the Jardine Schindler Group to boost smart digital urban mobility solutions in Aspen's developments. The agreement was signed by Jardine Schindler Group's chief executive officer Jujudhan Jena, Antah Schindler Sdn Bhd managing director Ashok Ramachandran, Murly and Woo.
Witnessing the signing of the second signing event today were Lim, Nazir and Antah Schindler Sdn Bhd New Installation director Chan Siu Shing.
Read More: NST Online