Jerejak island resort to be redeveloped, joint venture with Ideal Property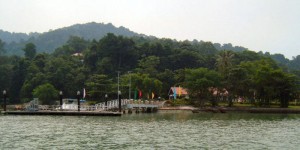 Tropical Island Resort Sdn Bhd (TIRSB) has entered into a joint-venture agreement with Q Islands Development Sdn Bhd (QID), a subsidiary of Ideal Property Group, to redevelop the Jerejak Rainforest Resort & Spa and the 80 acres of land owned by TIRSB on the island.
TIRSB is a joint-venture company between UDA Holdings Bhd and Penang Development Corp with percentage equity of 51% and 49% respectively. As the owner of the resort, it had appointed Bestari Hospitality Management to operate the resort since 2004.
The resort is said to be quite popular among local tourists and TIRSB believes QID will be able to re-brand the operations, enhance the value of the development and turn the loss-making property into profitability.
TIRSB said in a statement today that the redevelopment master plan, which will consist of a bridge linking Pulau Jerejak to the main island, has been approved by the Penang state government.
The redevelopment will comprise 1,200 units of residential development, a marina, four- and five-star hotels, theme park, an 11.5km round island cycling track and related infrastructure to promote tourism in the state.
As at April 30, TIRSB has recorded an accumulated heavy loss since it commenced the operation of Jerejak Rainforest Resort & Spa in 2004, which resulted in its closure in May this year.
UDA will have 100% control of TIRSB upon completion of the Novation Agreement.
Consequently and in accordance with the joint-venture agreement between TIRSB and QID, the operation of Jerejak Rainforest Resort & Spa will be handed over to QID within six months after the formalisation of the terms and conditions of the agreement.
Construction of the redevelopment is expected to commence in 4Q2017, with completion slated within eight to ten years.
Read source article: TheEdgeProperty.com.my
Register your interest for future development updates