Hua Yang Introduces Meritus Residensi in Penang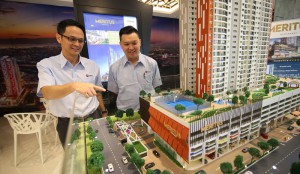 Marking the Group's inaugural entry into Penang's property market, Hua Yang Berhad ("Hua Yang" or the "Group"), a leading property developer in the affordable housing sector, introduced Meritus Residensi today.
Established in 1978, the Group today is recognised as one of the nation's leading property developers in the affordable housing segment, with a strong footprint in Klang Valley, Perak and Johor. The Group's foray into the Northern region is an extension of Hua Yang's vision to help make dreams of affordable home ownership a reality.
Ho Wen Yan, Chief Executive Officer of Hua Yang, said, "Leveraging on our experience in the property sector that spans close to four decades, coupled with our expertise in delivering innovative, quality and affordable homes, we are confident that our expansion into the Penang property market will augur well for the Group."
According to Ho, demand for affordable homes are expected to continue to be on the rise, especially in Penang where the State is developing rapidly and land close to urban centres are becoming more and more scarce. "We believe that offerings like Meritus Residensi, which are strategically located and features facilities that cater to the contemporary urban lifestyle, will be well-received by first-time home buyers as well as those who are looking to upgrade," he added.
Meritus Residensi is a 4.32-acre project consisting 480 units of serviced apartments and 15 retail shops. With an estimated Gross Development Value (GDV) of RM220 million, this project makes up the first phase of a 6.98-acre freehold mixed development. Strategically located along the vibrant Jalan Baru thoroughfare, the development is set within a 44-storey tower, which will become a tall iconic structure in the Prai community. The estimated GDV of the overall development is RM324 million.
The serviced apartments come in a variety of sizes, from 945 sq.ft. (square feet) onwards, and are priced from RM364,500. Meritus Residensi is expected to be completed by 2020.
The Group now has a total undeveloped land bank of 331.2 acres in the Northern region with a potential GDV of RM1.5 billion.