Sunway plans RM5bil projects in Penang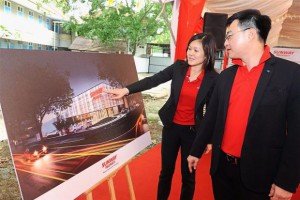 Sunway Bhd will launch RM5bil worth of properties in Penang over the next eight years.
Sunway Property Development Division (Malaysia and Singapore) managing director Sarena Cheah said about 40% of them were long-term investment projects, which include hospitals, colleges and hotels.
"We are submitting plans to the local authorities for a RM2.3bil integrated project planned for a 23-acre site in Paya Terubong on the island in the third quarter of 2016.
"Construction work is scheduled to start in the third quarter of 2017," Cheah said after the ground-breaking ceremony of Sunway's new headquarters for the northern region at Anson Road here. Also present was state executive councillor Chow Kon Yeow.
In Seberang Jaya, Sunway would add another 500,000 sq ft to the Sunway Carnival Mall.
"We are also planning a 150-bedroom hospital. Both the expansion of the mall and the development of the hospital will take place in 2017. There is a plan to expand the present 200-room Sunway Hotel in Seberang Jaya," she added.
Cheah said although the property market is soft, it is necessary to plan properly now.
"We will concentrate our plans on the Klang Valley, Johor Baru and Penang. In Penang, Sunway Property has about 196 acres of undeveloped land bank," she added.
Meanwhile, Cheah said Sunway Property is committed to adopt a sustainable design for its new two-storey regional office at Anson Road on a 20,000-sq-ft site.
"Sunway aims to obtain the Green Building Index certification for its office building, which will open in April 2017. We are pleased to finally reveal our plans for Sunway Property @ Anson to all Penangites.
"The office and sales gallery will provide a state-of-the-art facility that offers convenience and quality experience for our customers and visitors to better understand our integrated products across various regions in Malaysia," she said.
Source: TheStar.com.my