Penang Property Summit 2016 (8th -10th January)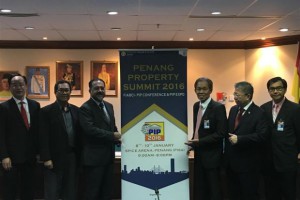 Lectures on property among expo's highlights
The Penang Property Summit 2016 will take place from Friday to Sunday for the second year running at the Subterranean Penang International Convention and Exhibition Centre.
With over 30 exhibitors at the three-day event, it will kick-start on Friday with an International Real Estate Federation (Penang Chapter) and Penang International Property Conference for about 200 invited participants including the exhibitors, stakeholders and officials.
State Housing and Town and Country Planning Committee chairman Jagdeep Singh Deo said the conference would engage participants in tackling concerns facing the industry.
"Last year, the issues raised included affordable housing, high rate of rejected loans and the environment. It was followed up with a mid-term review in August.
"This year, it will be on the review of criteria for affordable housing and the Developers Creative Schemes," he said during a press conference yesterday at Komtar, adding that Chief Minister Lim Guan Eng would give a keynote address on Friday.
Jagdeep said a property fair showcasing all types of property from affordable to high-end would also be held.
The summit, which is open to the public only on Saturday and Sunday, will also feature new highlights including the 'premier lecture series' on Saturday from 11am onwards by senior state executive councillor Chow Kon Yeow, Seberang Prai Municipal Council president Datuk Maimunah Mohd Sharif and Penang Institute CEO Dr Lim Kim Hwa.
The lectures will include challen-ges and opportunities facing Penang island and mainland, and an insight into the state's strategic plans to be a 'high-income' state.
Event director Ong Ban Seang said one of the highlighted key topics would be the Implications of Strata Management Act 2015 by prominent panellists at 5pm on Saturday.
On Sunday, a talk on 'How to Grab Monkey Year Properties' will be conducted in both English and Mandarin at 1pm, followed by a public talk, charity auction and public speaking championship.
Source: TheStar.com.my