Penang accepts PR1MA applications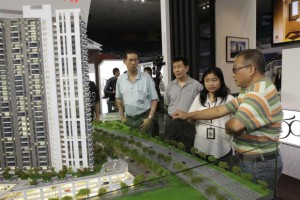 Penang has received its first two Perumahan Rakyat 1Malaysia (PR1MA) applications to undertake affordable housing projects involving 2,600 units.
The applications are for a project in Batu Ferringhi (1,520 units) and another in Kampung Kastam, Bukit Gelugor (1,124 units).
State Housing, Town and Country Planning Committee chairman Jagdeep Singh Deo said the applications were received last month.
"Like any other development projects in the state, these two projects will need to meet the technical requirements before getting the green light.
"If the projects are in compliance with all the conditions, the soonest they can be referred to the State Planning Council for approval is March," he said in his keynote address at the Penang Property Summit at the Subterranean Penang International Convention and Exhibition Centre (SPICE) yesterday.
Meanwhile, Jagdeep said Penang had also seen an adjustment in the property market with an increase in the number of affordable houses.
"From 2012 up to the first half of 2015, 79% of 67,119 transactions for residential property are for affordable housing.
"It is clear that affordable housing is the way forward in the residential property sector," he said.
Jagdeep added that about 4,500 units of affordable housing were expected to be delivered from this year and 2018.
Jagdeep added that the state government would look into improving the implemented 3% approval fee for purchase of property by foreigners.
The fee was introduced as a cooling measure to control the rise of property prices.
"The measure appeared not to have any impact on foreigners buying Penang property.
"The record from 2014 showed 177 transactions totalling more than RM10mil in approval fees charged.
"Last year, there was an increase to 211 transactions, worth more than RM12mil in approval fees.
"This might possibly be due to the recent depreciation of the ringgit," he said.
Chief Minister Lim Guan Eng said the Penang Island City Council's Gross Development Value for approvals of construction projects was RM3,565,075,900 in 2014.
"For the first half of last year, the figure was RM1,981,540,000.
"This shows that the construction industry is still recording strong growth in Penang despite the economic downturn in the country," said Lim.
Event director Ong Ban Seang said about 20,000 visitors were expected for the three-day summit held until tomorrow.
"We have even brought in some developers showcasing property from Selangor and even China," he said.
The event is open from 11am to 8pm. Admission is free.
Source: TheStar.com.my