1,000 acres of land to be reclaimed in southern Penang is for industrial use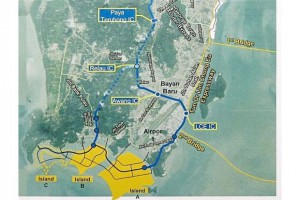 Some 1,000 acres of the land on the two islands that will be reclaimed to the south of Penang island as part of the state government's land swap deal with SRS Consortium for the Penang Transport Master Plan (PTMP) have been earmarked for industrial development.
Recall that on Nov 27, SRS Consortium project manager Szeto Wai Loong said the two islands, measuring 1,300 acres and 2,100 acres, would be reclaimed at a cost of RM7 billion to RM8 billion respectively. An 800-acre island next to these islands had also been identified for further reclamation in future, pending the state's needs.
Yesterday, Ideal Property Development Sdn Bhd (IPD) director Datuk Alex Ooi told reporters that the 1,000 acres earmarked for industrial development would feature sites for the electronic and electrical sector, as well as light industries.
"There is no other industrial cluster which is as big as this in Southeast Asia, so we want to provide that space," he said.
He added that the RM27 billion PTMP is viewed as an economic transformation project for the state, with a five-time multiplier effect in terms of economic benefit from the project — which is easily RM135 billion — and as such, is Penang's growth catalyst.
Ooi said the remaining acreage would be allocated for green area (1,000 acres), a dam, airport expansion, administrative buildings, sewage plant, offices and residential units.
IPD, a subsidiary of Ideal Property Group Sdn Bhd, is one of three players — including Penang-based Loh Phoy Yen Holdings Sdn Bhd — in the SRS Consortium, the appointed PTMP project delivery partner that is led by Gamuda Bhd.
Ooi said the consortium has spent more than RM10 million on preliminary studies for the land reclamation.
The reclamation, identified as a land swap model to finance the PTMP, is expected to take off in 2018 once federal and state approvals for the project component are attained.
It was previously reported that the cost of the detailed environmental impact assessments for the road, rail-based public transportation and the reclamation would amount to about RM300 million to RM400 million, and would be borne by the state.
A tender for the reclamation will be called once approvals from the authorities are completed and the detailed design for the rail-based segment is completed.
Meanwhile, Ooi said the Penang entities' role in the project, including Loh Phoy Yen's, is to provide local expertise for the project.
"Our job is to provide local expertise. We will liaise with the local authorities and carry out consultations with fishermen and other stakeholders. From feedback on the ground, about 90% of it was favourable," he said.
Source: TheEdgeMarkets.com