Top 8 Property News Portal in Malaysia
Today we are looking at a comparison of 20 property news portals in Malaysia with SimilarWeb.com's web traffic analytic and it is plausible to conclude that PenangPropertyTalk.com has accomplished a new milestone by achieving the fifth position with a monthly visits of 140,000 in October 2015.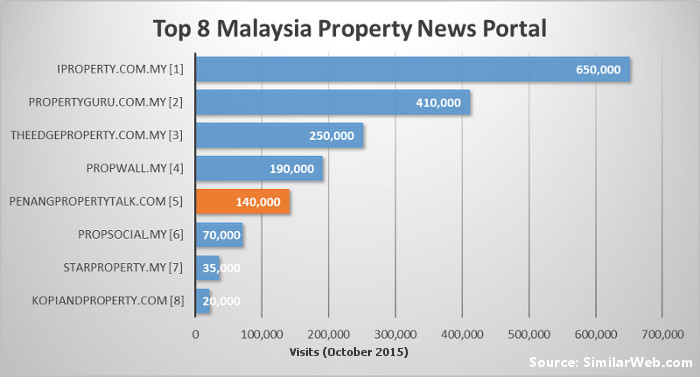 The chart outlines the top 8 websites which have an estimated monthly traffic of 20,000 and above. iProperty.com.my leads the list by having an estimate of 650,000 visits a month. TheEdgeProperty.com.my has been picking up and it is currently ranked 3rd.
Surprisingly, StarProperty.my and Propwall.my traffic has been deteriorating over the past few months. In fact, the statistic also indicated that StarProperty.my has less than half the traffic of PenangPropertyTalk.com :).
On the other hand, kopiandproperty.com; a website owned by a worthy friend of mine continuously strives into the upwards trend and managed to hit the 8th ranking.
Should you come across any other more popular property news portal in Malaysia that we have missed out, check out their traffic using SimilarWeb's traffic analytic tools and let us know if its website traffic is better than those listed here.
– Ken Lim
(Founder, PenangPropertyTalk.com)