Ivory's WorldCity reclamation works may begin in 2Q16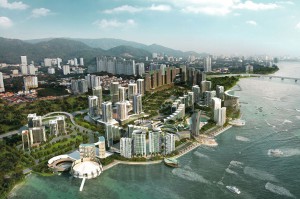 After a delay of almost four years, land reclamation works on the RM10 billion Penang WorldCity mixed development in Bayan Mutiara, Penang may finally be moving forward. The joint venture (JV) between Ivory Properties Group Bhd and Tropicana Corp Bhd plans to call for tenders for the reclamation works at Penang WorldCity by the end of this year or the first quarter of 2016.
Ivory Properties chief operating officer Goh Chin Eng said Tropicana Ivory Sdn Bhd will kick-start the tender process in a matter of months, which was postponed twice after having problems getting approvals from the local authorities within the stipulated time which were prerequisites for the tender.
Tropicana Ivory is a 51:49 JV between Ivory Properties and Tropicana.
Goh said yesterday approvals from the relevant departments including the department of environment to undertake the reclamation works have been received."We called off the tenders twice after the six-month contract lapsed, but now we have gotten all the necessary approvals and can finally call for a tender," he told The Edge Financial Daily in an interview.
Ivory Properties in November 2011 signed a purchase and development agreement with Chief Minister of Penang (Inc) and Penang Development Corp for the proposed development of a mixed residential and commercial property project on a 41.5ha site in Bayan Mutiara for RM1.07 billion. Of the 41.5ha, 27.3ha are existing land and 14.2ha are to be reclaimed
"We are finalising some technical issues and would call for a tender to select a contractor by year end or the first quarter of 2016. We believe the potential contractors, who had expressed their interest in the project earlier including foreign companies, would resubmit their bids," said Goh.
"We target to begin works to reclaim 14.2ha of land [in Penang WorldCity] in the second quarter of 2016. We plan to build a hotel, hospitals, schools and residential units on the reclaimed land," he added.
The Penang WorldCity project is expected to give a massive boost to Ivory Properties' revenue in eight years, Goh said, contributing some RM5 billion to RM6 billion towards the group's overall sales then. The Penang-based property developer on Oct 3, 2014 changed its financial year end from Dec 31 to March 31. Due to the year end change, the cumulative quarters for the current financial year consist of 15 months' results beginning Jan 1, 2014 to March 31, 2015, which saw Ivory Properties posting a net profit of RM22.77 million on revenue of RM270.19 million.
Already, Ivory Properties has seen contributions coming from the Penang WorldCity project. The group has launched the first phase of condominium units in the Penang WorldCity project, and plans to release the second phase of homes by the end of next year. These properties are located on the existing 27.3ha of land in Bayan Mutiara.
Goh said construction of phase 1A, comprising 1,343 condominium units priced from RM450,000, is 30% complete.
For its first financial quarter ended June 30, 2015 (1QFY16), Ivory Properties saw its net profit drop 22.3% to RM8.1 million from RM10.42 million in 1QFY15 as revenue slid 16.5% to RM47.42 million from RM56.76 million. In its notes in the quarterly results, Ivory Properties said the 1QFY16 revenue from its construction contracts segment was mainly contributed by the construction claim on phase 1A of Penang WorldCity, where the construction work progressed towards the end of last year.
On its gearing level which stood at a 12-month rolling average of 61%, Goh said Ivory Properties aims to reduce reliance on institutional financing in the long run and to focus on its sales and marketing activities from its ongoing Penang Times Square project in George Town, Penang.
The group had unbilled sales of RM492.9 million as at July 31, which will keep it busy for the next three to five years. It also carries a tender book of about RM500 million. Ivory Properties currently owns 120 acres (48.6ha) of land bank, all located on the island, with a combined gross development value of RM11.12 billion.
"The land bank will sustain us for another eight to 10 years. We continue to look for more land in Penang and the Klang Valley. We are now negotiating with some landowners in Kuala Lumpur and will make the necessary announcement in due time," said Goh.
Meanwhile, Goh sees Penang's property market recovering next year, boosted by the RM27 billion Penang transport master plan. "Due to land scarcity in Penang, I believe that the market will consolidate now and pick up in 2016 as the transport master plan kicks in. Penang is still an attractive and interesting location preferred by investors and foreigners," he said.
Ivory Properties shares closed up 6.58% or three sen higher to 41 sen on Friday, giving it a market capitalisation of RM180.44 million.
Source: TheEdgeMarkets.com