A retail paradise in the making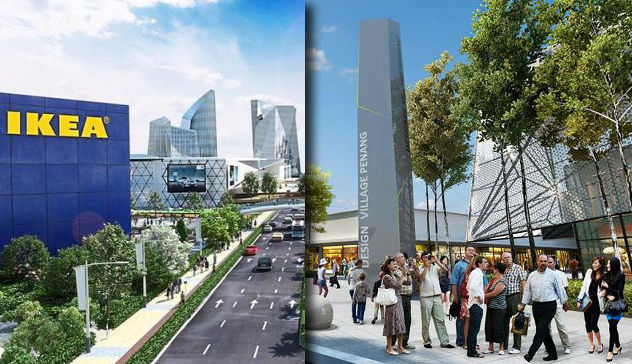 With three major shopping malls being planned for Seberang Prai, the mainland will soon rival the island as a shopping paradise.
The three malls are The Design Village (net lettable area (NLA) 400,000 sq ft), Ikea and Ikano Power Centre, and unnamed mall project by Belleview Goup (1.5 million sq ft).
PE Land executive director Joanna Ling said in an interview that The Design Village is positioned as a premium outlet and not a conventional mall.
"This is different from conventional malls, which offer groceries and general merchandise, targeting mostly families.
"The Design Village is a premium outlet mall, offering attractive discounts for premium and luxury fashion brand names," she said.
Ling said the retail industry was evolving rapidly in a globalized economy where consumers demand instant gratification and sophistication but at fair value.
"This has resulted in the emergence of a new trend in retail in the form of premium outlet malls selling premium and luxury branded merchandise at a discount for off-season products that remain attractive to the broad market.
"This is why we have The Design Village in Penang. The Design Village will be the only premium outlet mall in Batu Kawan as the state has granted PE Land exclusivity for this retail concept," Ling said.
She added that the estimated local catchment comprising residents and the working population of Batu Kawan itself, was projected to be around 250,000.
"This is in addition to the 5.5 million immediate catchment of the northern region, which includes Penang island," Ling said.
Among the notable projects that are underway include the Eco World Premium Golf Resort, Columbia Hospital, Hull University, Aspen Vision City and the SME Village.
The Penang-based Belleview Group will soon launch its biggest commercial-cum-residential project to-date.
Its managing director, Datuk Sonny Ho, said the RM2.5bil mixed development project, to be located on a 8.09ha site, included the largest shopping mall in the northern region with 1.2 million sq ft built-up area.
"The mixed-development project will also include a four-star hotel, an Olympic-size skating rink, a 20-screen cineplex, and a high-rise residential lifestyle condominium component with 978 units," Ho added.
The Ikea and Ikano Power Centre Mall to be located in Aspen Vision City in Batu Kawan from Aspen Group is scheduled to start soon.
Aspen Group chief executive officer Datuk M. Murly said earthworks for the Ikea store and the Ikano mall had started.
"The Ikea store, the first of its kind in the northern region, will be completed in 2018.
"The Ikano mall will have the best shopping, dining, and entertainment outlets," he said.
Is Penang heading towards a glut in retail space?
On the island, there are eight shopping malls coming up over the next five years.
They are Penang Times Square Phase 3 (net lettable area 230,000 sq ft), City Mall Bayan City (300,000 sq ft), Southbay Plaza (424,000 sq ft), Penang World City (1 million sq ft), Sunshine Tower (2 million sq ft), The Light Water-front Mall (1 million) and Mall@Southbay City (750,000).
The new projects on the island and Seberang Prai will add over 7.6 million sq ft of fresh retail space to the market, which will worsen the glut in the local retail space.
The retail space per capita in Penang is 6.11 sq ft, while on the island it is 9.58 sq ft.
"The state has a lower per capita retail space than that of Klang Valley which stands at 7.35sq ft, while Iskandar Malaysia is 6.09sq ft.
"The retail space per capita should not exceed 5sq ft.
"Our opinion is that anything above that is oversupply," Savills Malaysia managing director Allan Soo said.
Soo said as the competition toughens, malls will certainly need to have a pull factor such as a major difference in price, quality and uniqueness of the tenants and the merchandises.
"We also expect a lower rent regime soon where the mall operator works closely with the retailer and charges rent based on the tenant's performance.
"The incentive is then for the operator to drive traffic into the mall instead of just waiting to raise rentals at each review period.
"This will differentiate the successful malls from the poor ones.
"The long-term prospects of shopping malls in Penang is moderate on average; albeit with some exceptions.
"Although the malls attract tourists from the region, the spectre of impending oversupply will raise the barrier for new entry malls," he said.
Current retail space is 9.076 million sq ft from 20 malls, while the impending supply from 12 projects is over 7.4 million sq ft.
Current rentals for ground floor units at premier malls on the island ranges between RM17 and RM35.12 psf.
In the suburbs, the rental is RM24.62 psf for ground floor units.
On the mainland, the rentals for strategically located units in a premier mall starts from RM12.07 psf.
Henry Butcher Retail managing director Tan Hai Hsin said similar to Klang Valley and Johor Baru, oversupply of retail space in Penang had always been the last 10 years.
Tan said that this was evident from the fact that very popular shopping centres during the 1990s had been suffering from poor occupancy rates during the last 10 years.
"Rental rates of these shopping centres have not seen significant growth due to weak shopping traffic.
"They are unable to carry out major refurbishment due to multiple ownership.
"Abandoned shopping malls built during the 1990s remain the same during the last 10 years," Tan said.
On rental rates, Tan said popular and well-managed shopping centres such as Gurney Plaza, Queensbay Mall and several others would continue to enjoy healthy growth rates from year to year.
"At the same time, many strata-titled shopping centres will continue to suffer in low rental rates for years to come," Tan added.
The long-term future for shopping malls is positive because Penang is the retail hub for the northern region, Tan said.
"Penang continues to attract international tourists due to its unique product offerings, while its economy continues to show good prospect in the near future.
"The second bridge has created a new growth area in the mainland, which will boost retail development in this area," Tan said.
Meanwhile, Penang Institute fellow and head of urban studies Stuart Macdonald said new mall operations would face challenges in maintaining a sustainable business due to a stagnant population with strained purchasing power.
According to Macdonald, the total fertility rate for Penang in 2013 was 1.5, which is below 2.1, the healthy level for women to have children to replace themselves and their partner.
The 1.5 figure is projected to decline to 1.3 by 2040.
The total fertility rate is an important factor in determining population growth.
"The migration to Penang from other states has also dropped to 12,800 in 2014 from about 14,100 in 2013, the number of people leaving Penang for other states remains unchanged at 11,500 for 2013 and 2014.
"This has resulted in a net migration of 1,300 for 2014, which means that 1,300 stayed back in Penang after taking into consideration the difference between the immigrants and emigrants, compared to the net migration in 2013 which was 2,600.
From 1992-2013, the net migration for Penang was around 9,372 per annum.
"Without a strong population growth, it would be hard to imagine how the retail business in Penang could be sustainable," he said.
Source: StarProperty.my