Gamuda gets PDP job for Penang project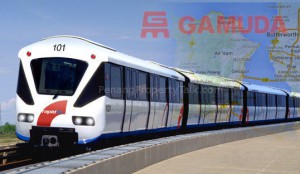 Gamuda Bhd has been appointed as the Project Delivery Partner (PDP) to oversee and realise certain key components in the RM27bil Penang Transport Master Plan (PTMP).
Sources told StarBiz that the group has recently received the letter of award from the state government following a state executive councillor meeting, which endorsed the appointment.
On Aug 12, State Local Government, Traffic Management, and Flood Mitigation Committee chairman Chow Kon Yeow announced that a PDP had been appointed and the company was given two weeks to accept or decline the appointment.
It is learnt that Gamuda has formed a company with two local firms to implement the PTMP project.
The company will undertake the RM5.3bil LRT project and a RM4.5bil 20km pan-island linked expressway linking Bayan Lepas and Tanjung Bungah, which are among the key components of the PTMP first phase.
The other schemes in the first phase that Gamuda will implement include a RM100mil tram and catamaran system, and a RM100mil highway interchange upgrading project. Although Gamuda has received the award letter, the company still has to obtain a LRT license from the federal government to implement the project in Penang.
This LRT permit will take about nine months to one year to obtain.
"Gamuda is now in the process of appointing local contractors to undertake soil and alignment studies for the LRT project," the sources said.
According to sources, the old Prangin market, popularly known as Sia Boey (Town's End), has been designated by the state government as the site for the central LRT station.
From Sia Boey, the initial plan is to have a 17.5km LRT line running from inner George Town to Bayan Lepas.
There will be two additional lines, running from Sia Boey to Tanjung Tokong via Kelawei Road, and to Paya Terubong via Datuk Keramat and Air Itam.
In an interview last year, Chow said the LRT line – which will be supported by a revamped stage bus system and trams – would be a priority, with completion targeted for five to six years.
In an interview a year ago, Chow said the PDP would also have to oversee the other infrastructure (RM16bil) and public transport (RM9bil) projects in the PTMP.
The institutional costs is estimated to be RM905mil, and Penang would have to foot about RM10bil of the total RM27bil cost, Chow said.
"The RM10bil allocation from the state does not include the RM6.3bil for the undersea tunnel and three expressway projects," he said.
The 6.5km road tunnel is planned to run from Gurney Drive to Bagan Ajam in Butterworth.
The expressways include a 4.2km bypass from Persiaran Gurney to Persiaran Tun Dr Lim Chong Eu, a 4.6km expressway and by-pass from Tun Dr Lim Chong Eu Expressway to Bandar Baru Air Itam and a four-lane 12km road linking Tanjung Bungah with Teluk Bahang.
Chow said some of the projects would fall under the jurisdiction of the federal government.
Source: TheStar.com.my