Penang, more and more 'billion' developments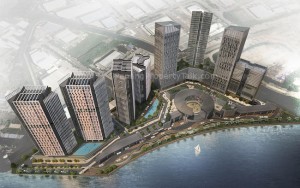 by Charles Tan
Just a few years ago, there were hardly any billion Ringgit Gross Development Value (GDV) projects in Penang. These 2 years however, we are seeing more and more of these billion Ringgit GDV projects. I think one major reason is also because many KL developers are now moving into Penang. It does not make sense for them to move into Penang and develop only projects worth a few hundred millions right?
Latest news is that Titijaya Land Bhd has obtained shareholders' approval to acquire about 23 acres of leasehold land in Batu Maung, Penang. It will be building a mixed-use development with a GDV of RM2.6 billion! Price to be paid for the land is RM126 million ONLY. This indicated a land cost versus GDV of only 5 percent!? I think those who love to buy property stocks may want to take a closer look when Titijaya has successfully launched the first phase of this project and earnings start to show.
This is a SOHO project. The development would offer about 1,700 units of these SOHO units over four blocks. there would also be retail components and four office towers! Actually, I do not find Penang attractive for these office units but perhaps it should be popular in future. Phase 1 would be launched either year-end or early next year and first phase would have a GDV of RM600 million. This is considered above average in terms of GDV for projects within the island.
Penang does not have that many SOHO projects when compared to the popularity of such units in Klang Valley. One major reason it is so popular in Klang Valley is also because of affordability; total price. Price per sf is considered high but many of these SOHO units offer an easy entry point since the price is likely to be sub RM400,000 anyway. It's still way too early for Titijaya to announce the estimated selling price but I think it has to be very attractively priced in order to be successful. As at now, one bridge away,  RM400,000 can get a landed property in mainland. Many Penangites are definitely not used to these SOHO units yet. Happy anticipating.
>> This opinion article comes courtesy of my friend, Charles, the founder of kopiandproperty.com. He is popular for sharing his thought on property investment mostly based on his own 12 years experience as well as from all the readings and conversations with property gurus in the industry. (Source)