RM53mil state aid to build affordable homes for bumis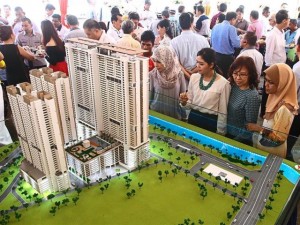 The state government, through its Penang Bumiputera Housing Trust Accounts, will allocate RM52.9mil to build 320 low medium-cost (LMC) homes for bumiputra buyers.
Chief Minister Lim Guan Eng said the LMC homes were part of the 2,093 units of a public and affordable housing scheme called 'The Rise' in Jalan S.P. Chelliah.
He said the units would come with parking space, adding that proceeds from the sale of these units amounting to RM23.2mil would be channelled back to the trust accounts.
He added that this was to enable the state government to provide more housing units for bumiputra buyers in the future.
The money in the trust accounts is contribution paid by developers to secure the release of unsold bumiputra lots over the years.
"Penang Bumiputera Housing Trust Accounts now has RM69.3mil. We still have RM16.4mil as balance after deducting RM52.9mil, which is meant for the 320 LMC units.
"We will continue to provide more bumiputra public housing once the RM23.2mil is channelled into the trust accounts following completion of these units within three years," he said at the groundbreaking ceremony of 'The Rise' on Friday.
The project, with a gross development value of RM600mil, is scheduled for completion by November 2019.
The 4.4ha site will house 883 units with a built-up size of 800sq ft priced at RM200,000, 165 units of 900sq ft (RM300,000), 275 units of 1,000sq ft (RM400,000) and 770 units of 700sq ft (RM72,500).
The Penang Municipal Council is the registered proprietor of the land, while Penang Development Corporation was appointed as attorney and project administrator to manage the development of the land for affordable homes.
An open tender was called before it was awarded to developer Zubicon Sdn Bhd to carry out the project.
The facilities planned include a pavilion, linear park, community park, riverfront point, market street, big tree skyway, bus terminal, taxi hub, Chelliah Square, civic centre and surau.
Jalan S.P. Chelliah will also be upgraded.
The state government is embarking on 12 affordable housing schemes (including 'The Rise'), comprising 22,545 affordable homes in all five districts in Penang.
Work to build affordable homes has begun in Bandar Cassia and Teluk Kumbar.
Source: StarProperty.my