Delima Emas Condominium – Official Launch (19 April)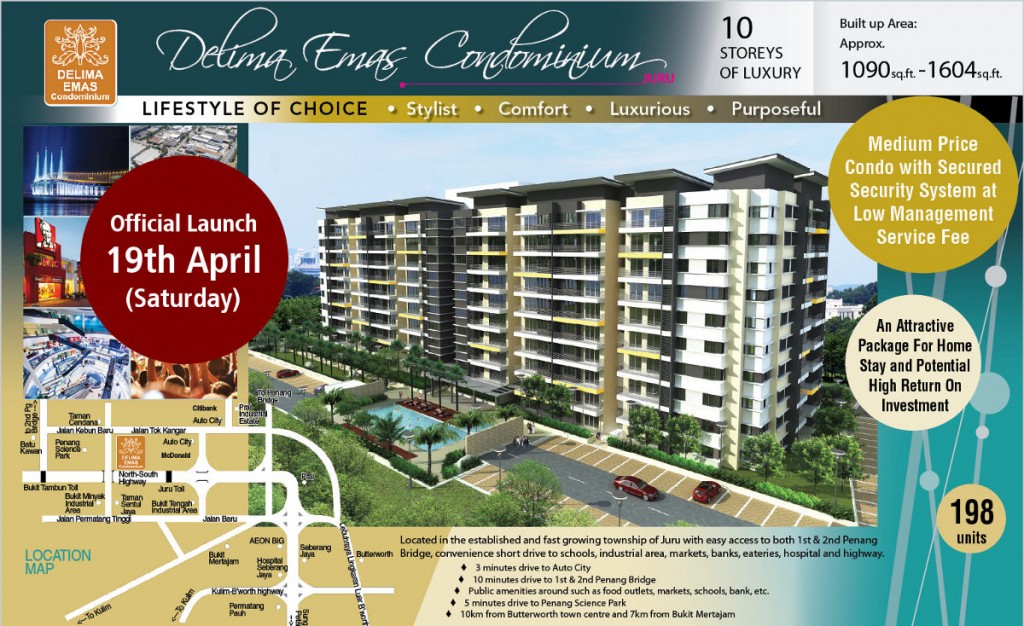 THE PROJECT
Developer E.W. & Associates Sdn. Bhd., having successfully completed some 1,200 units of affordable residential units at Taman Seri Delima launch yet another affordable housing project. This latest launch consists 198 of condominium units – Condo Delima Emas – covering 2 tower blocks that is annexed to a seperate car park building. All condo units have a minium of 3 bedrooms with layout ranging from 1,170 sq.ft. to 1,640 sq.ft. Meeting the needs of defferent households, there are 4 seperate designs and layout starting from basic – practical and purposeful to cater for young working families – to more elaborate – for comfort living by middle income households.
Located in the mid way between the Penang Bridges, Taman Seri Delima is easily accessible to the 1st and 2nd Penang bridge. (11.5km to 1st bridge and 12.3km to the 2nd bridge). Taman Seri Delima has easy accessbility to schools, shopping and medical centres.
LOCATION AND SURROUNDING
Located strategically adjacent to the north- south highway close to the Juru Toll Plaza and the vicinity of auto city commercial cum residential centre, Taman Seri Delima has increasingly become a popular a well- planned commercial and residential area for rapidly rising income households. The development of Taman Seri Delima started some 10 years ago and now houses some 8 blocks of high rise residential buildings consisting of a total of 1200 units. It has a rapid growing commercial centre consisting of 112 of two and three storey shop offices that cater to the needs of the residents of Taman Seri Delima and the surrounding areas.
The opening of the 2nd Penang Bridge is likely to see a greater the flow of factories into the surrounding of the Juru-Batu Kawan areas to take the advantage of lower operational costs. Thus the demand for affordable homes in this vicinity is expected to increase rapidly. Taman Seri Delima being one of the more established residential and commercial centres is likely to see a further enhancement of its popularity as a convenient and affordable area for middle income households.
DEVELOPMENT AND COMPLETION
The Developer has already commenced the development and sales of units to potential buyers to avoid the increase in price to buyers arising from the introduction of GST in 2015. Expected date of completion within 30 months of Sales and Purchase Agreement.
Project Details
Location : Juru, Penang
Property Type : Apartment/Condominium
Total Units : 198
Built-up Area: 1,090 sq.ft. – 1,604 sq.ft.
Land Tenure: Freehold
Maintenance Fees: RM0.19 psf.
Indicative Price: RM350,000 onwards
Developer: E.W. & Associates Sdn. Bhd.
Contact No: 019-568 5551 (Sam)
[Sponsor Ads]