Real estate seen booming in Batu Kawan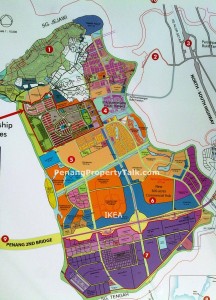 Batu Kawan, which was once a quiet backwater in Penang, will see its real estate booming because of new developments and the opening of Second Penang bridge, says property analysts.
They expect more medium to high-end residential and commercial projects from developers, and prices to move up gradually.
Currently, besides Penang Development Corp's (PDC) Dedaun bungalow project, almost all other property developments in Batu Kawan are low-medium cost homes with no major commercial elements.
Things are slowly changing in the sleepy suburb with new projects, such as the planned theme park and golf resort development at Bandar Cassia by PDC, and One Auto Hub.
One Auto Hub, a project by PKT Logistic Group, consists of United Kingdom's University of Hull campus, a hotel, automotive logistic facilities, warehouses, jetty and an animal sanctuary.
Mercury Securities head of research Edmund Tham said the opening of Swedish home furnishing store IKEA in Batu Kawan will further boost the town's real estate.
"IKEA will just be one of the contributing factors to attract new crowds and population to Batu Kawan. This should be an interesting up-and-coming area to look at for both developers and prospective house buyers," Tham said.
The IKEA store is part of a 98ha integrated shopping mall development also featuring offices and residences.
Ikano Pte Ltd, the franchisee for IKEA in Malaysia, Singapore and Thailand, formed a joint venture with Aspen Vision Land Sdn Bhd to develop the project over five to 10 years.
Tham expects property developers in the Batu Kawan area to benefit from improved infrastructure, inflow of population and workers, and demand for property.
Current listed developers in Batu Kawan and its surrounding areas include Ivory Properties Group Bhd, Malton Bhd, Paramount Corp Bhd, Tambun Indah Land Bhd, Eco World Development Group Bhd, Mah Sing Group Bhd and IJM Land Bhd.
According to a property agent, the value of a two-storey terraced house in Batu Kawan, which is 45 minutes from George Town, has increased from RM80,000 to around RM140,000 in over three years.
"Land price also costs about 30per cent more now, depending on the location in and around Batu Kawan, and developers are buying," he said.
Source: Business Times