Penang undersea tunnel feasibility study ready in April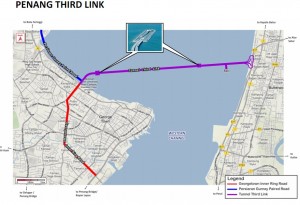 Consortium Zenith BUCG Sdn Bhd expects to complete feasibility studies for the controversial RM6.3 billion Penang undersea tunnel infrastructure project and major roads in April this year, said its chairman Datuk Zarul Ahmad Zulkifli.
Consortium Zenith is a joint-venture between Zenith Construction Sdn Bhd and China Railway Construction Co Ltd, together with Beijing Urban Construction Group, Sri Tinggi Sdn Bhd and Juteras Sdn Bhd.
Zenith PMC Sdn Bhd, a unit of Zenith Construction, signed a joint-venture agreement with Astral Supreme Construction Sdn Bhd in September 2013 to carry out a feasibility study, design and environmental impact assessment (EIA) for the undersea tunnel.
"We should be able to complete the feasibility studies in April. At the moment, we're ahead of time. We're supposed to complete the feasibility studies by June but we're now bringing it forward," he told reporters after the signing a memorandum of agreement with Koperasi Staff CIDB Malaysia Bhd (KoCIDB) here yesterday.
He added that after the completion of the feasibility studies, it will also need to undertake the detailed design works.
"Things are still not defined until we complete the feasibility studies," Zarul added.
When asked if the undersea tunnel project is going to exceed its budget, he said it is a business risk that the company has to take but is being managed.
"Even if it (costs) overshoots, it would be the businessman's problem and not the state's problem. The state has capped it at RM6.3 billion, and we have to work within the RM6.3 billion," said Zarul, who remained mum on the financing of the RM6.3 billion project.
Consortium Zenith was awarded the contract for the mammoth project by the state government in March 2013. A contract to seal the deal however was only signed in October 2013 after protests from the public brought into question the viability of the project.
Earlier, Consortium Zenith signed a memorandum of agreement with KoCIDB for a labour supply and management package, estimated at some RM200 million, for the construction of the Penang undersea tunnel infrastructure project and major roads.
It is expected to start construction of the first local Integrated Construction Workers Complex (ICWC) by the first quarter of 2015, which will accommodate for an estimated 2,000 workers who will be involved in the construction of the 6.5km George Town-Butterworth undersea tunnel project.
Zarul said the construction of the complex is to be completed by end of 2015 or early 2016. The construction of the first phase of ICWC is estimated at RM10 million to RM15 million.
"ICWC will be working hand in hand with a consortium of KoCIDB which is financially sound and has the experience at building complexes of similar kind in the country," he said.
The complex is spread across a land area of 14,164 sq meters in Penang. It will provide a full range of amenities including housing, business conference centres, cafeteria, sports centre, recreational facilities, mosque, clinic and supermarket.
He said this is the first time KoCIDB, a society under the Construction Industry Development Board (CIDB), is participating in the supply of workers to a construction company and hopes this will be a template for other companies to follow.
KoCIDB has credentials and experience in recruiting and training certified labour for the construction industry. It has the resources, expertise, efficient systems and capacity to recruit and manage labour, and coordinate work permit, medical and insurance requirements.
Source: TheSunDaily