One Precinct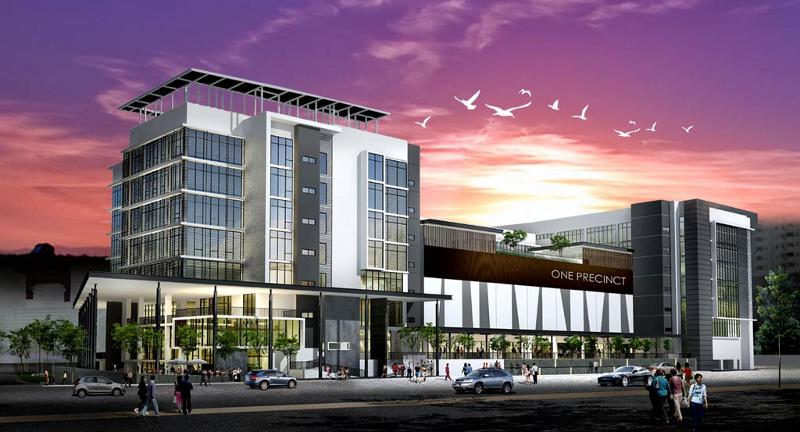 One Precinct, was known as Wikiworld back in 2007 and now it is making good progress. Located in a bustling and prominent district, One Precinct is only 10 minutes from the Free Trade Zones, Penang Bridge and Penang International Airport. Immediate surrounds are vibrant and comprises matured residential neighborhoods, commercial venues and shop lots. One Precinct offers numerous advantages and combined with its prime location, it is poised to become an impressive landmark in Bayan Baru.
One Precinct F&B
Spanning four levels and covering 35,000 sq. ft., the F&B hub is home to local and international brands. Unit sizes range from 000 to 000 sq ft, allowing for a wide variety of tenants. Together with the anchor tenant of 2,500 staff when fully occupied, One Precinct is set to offer an unrivalled dining experience.
One Precinct Office
Provide a world-class physical and information infrastructure.
Allow unrestricted employment of local and foreign knowledge workers.
Ensure freedom of ownership by exempting companies with MSC Malaysia Status from local ownership requirements.
Give the freedom to source capital globally for MSC Malaysia infrastructure, and the right to borrow funds globally.
Provide competitive financial incentives, including no income tax for up to 10 year or an investment tax allowance and no duties on duties on import of multimedia equipment.
Become a regional leader in intellectual protection and cyber laws.
Ensure no Internet censorship.
Provide globally competitive telecommunications tariffs.
Tender key MSC Malaysia infrastructure contracts to leading companies willing to use the MSC Malaysia as their regional hub.
Provide an effective one-stop agency- the Multimedia Development Corporation.
If there's one thing that Penang's famous for, aside from food, is being a mecca for technology. TECHNOTOPIA in One Precinct embodies this perception with the latest electronic, mobile and computer gadgets available for tech-centric visitors. Covering 000,000 sq. ft., this technology arcade has a mind-boggling array of 000 shops that offer a variety of services from repair to retail.
Property Project: One Precinct
Location: Bayan Baru, Penang
Property Type: Commercial
No. of Storey: 7
Developer: Interglobal Resources Sdn Bhd

Location Map: