Southbay Plaza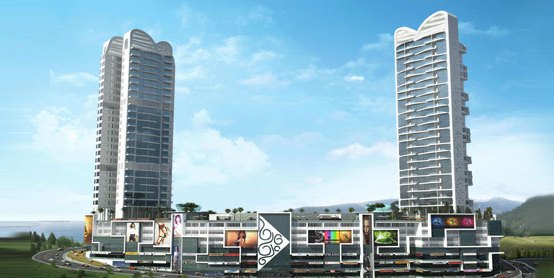 Southbay Plaza, sitting on arguably the most accessible location in Penang, Southbay Plaza boasts access via sea, land and air:
Close proximity to Penang Bridge
The Second Link Bridge which is due for completion in 2013
The Bayan Lepas Expressway leading towards Georgetown
A short drive from the Penang International Airport
Rapid Penang transport service route
To be linked via a future network of water taxis along the Penang Strait
Featuring a modern design expression within Southbay City, Southbay Plaza offers a stunning balance between prime location, lifestyle amenities and luxurious living spaces. It is an absolute gorgeous landmark with two majestic towers, perfect for the classiest and is currently the most architecturally distinct high-rise building in Batu Maung.
Lifestyle Retail
Southbay Plaza's lifestyle retail shops combine a rich business & retail experience with one of the most diversified, colourful & vibrant lifestyles in Penang.
Glass façade offers a dazzling array of reflections
Building's transparent skin allows a soulful play between interior and exterior spaces
Pleasant overall façade transformation from day to night
Interior spaces without interrupting columns
Variety of layouts affording flexibility of self-expression
1-storey retail shop : Indicative 1,200sf to 1,500sf
2-storey retail shop : Indicative 2,800sf to 3,200sf
3-storey retail shop : Indicative 4,500sf to 14,000sf
Residential Suites
The residences at Southbay Plaza set a new standard for sustainable luxury real estate in Batu Maung by blending luxury amenities and life-enchancing benefits.
Elegant suites blend luxury amenities and life-enhancing benefits
Rising 30 storeys with a modern glass facade
Breathtaking views of the sea, Penang Bridge and the new Second Link, the city and the Penang International Airport
Large balconies for stunning panoramic vistas
Green features to promote a healthy lifestyle
High ceilings add architectural grace notes to these homes
Unit Type:
Type A (2 bedroom) : Indicative 1,030sf
Type B (1+1 bedrooms) : Indicative 1,030sf
Type C (2 bedrooms) : Indicative 1,145sf
Type D (3 bedrooms) : Indicative 1,610sf (Duplex)
Type E (3+1 bedrooms) : Indicative 1,620sf (Duplex)
Type F (2 bedrooms) : Indicative 1,325sf
Type G (3+1 bedrooms) : Indicative 1,625sf
Type H (3+1 bedrooms) : Indicative 1,635sf
Property Project: Southbay Plaza
Location : Southbay City, Bayan Lepas/Batu Maung, Penang
Property Type : Retail & Serviced Residence
Built-up Area: 1,030 sq.ft. onwards
Land Tenure : Freehold
Developer : Mah Sing Group
Indicative Price : RM600,000 onwards