More RM150,000 homes to be built in Penang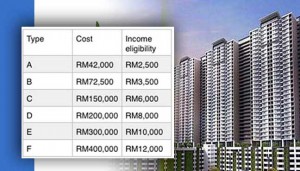 More lower-priced affordable homes await first-time buyers on Penang Island as more developers are willing to build RM150,000 apartments on the island, ever since the state government's lowering of maximum prices in one category last year.
State executive councillor in charge of housing Jagdeep Singh Deo said the state government has so far approved three projects in the RM150,000 category for 750 sq ft (minus finishing) homes.
"I am happy to announce that since the introduction of the RM150,000 for 750 sq ft homes, it has received good feedback from private developers.
"We have approved three such projects in the RM150,000 category. We received many more proposals for such projects which are now under review. By lowering the maximum prices, we are trying to make housing more accessible.
"We also previously reduced the maximum pricing of affordable homes on the island from RM400,000 to RM300,000. The response has been very encouraging," he said in a press conference in Komtar here today.
The 750 sq ft (minus finishing) units were previously priced at RM200,000.
Currently, affordable homes on the island are capped at the following prices, based on the relevant size: RM150,000 (750 sq ft), RM 250,000 (800 sq ft), and RM300,000 (900 sq ft).
On mainland Seberang Perai, the prices are capped at RM150,000 (750 sq ft), RM 200,000 (800 sq ft) and RM250,000 (900 sq ft).
Jagdeep said the Penang government was also retaining the old RM42,000 and RM72,500 housing price guideline, despite being told to revise the pricing to RM60,000 and RM100,000 by the federal government.
He said those interested in purchasing homes can visit the "Mission Home-Possible" affordable homes fair at the Queensbay Mall from Aug 10 to 13. It will be held at the mall's south atrium from 10am to 10pm.
"Those with questions on how to apply for homes can visit the expo, where officers from the Penang Housing Department will be there to assist new buyers and field questions," Jagdeep said.
Currently, the Penang government is building 27,230 affordable homes while another 36,786 units are being built by private developers.
Source: FMT News