Malaysia's property market to remain weak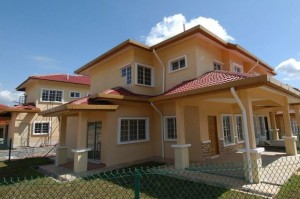 The Malaysian property market is expected to remain weak in the first half of this year amid flagging demand ahead of the upcoming general election, an independent property consultant said.
Knight Frank Malaysia, a unit of London-based Knight Frank LLP, said the property market is expected to continue its lacklustre momentum from the second half of last year which as the performance was derailed by oversupplied position in the main sub-sectors such as high-end residential, office and retail.
"The second half of 2017 continued to see developers shifting their focus to the middle-income and affordable housing segments to cater to a wider target catchment amid challenges in the high-end market," managing director Sarkunan Subramaniam said.
He said there was also mounting pressures on occupancy and rental levels for tenant-favoured office market as the increasing high supply pipeline continued to overshadow low absorption.
However, he said the mid- to longer-term prospect remained positive as more retailers embrace the concept of "clicks and mortar" amid the e-commerce boom, while owners and mall operators continued to undertake asset enhancement initiatives to reposition their assets in the changing retail landscape.
Sarkunan said the recent property freeze might provide a breather to the oversupplied markets but was not expected to correct the oversupply situation in the short to medium term.
"The property market will continue to self-correct as it looks to find its equilibrium," he said.
Meanwhile, Knight Frank's report entitled "Real estate highlights for the second half of 2017" found that secondary market pricing and rental remained flat during the review period for high-end condominium market in Kuala Lumpur.
"Despite the weak market sentiment, sequels to selected projects were launched at higher pricing but with more discounts," it said.
It said that more developers diversified their target market to other countries/ overseas territories such as Singapore, Indonesia, Hong Kong and Taiwan following China's capital control.
It added that the 50% tax exemption on rental income amounting up to RM2,000 a month as announced under Budget 2018 might also improved demand for this category of investment properties.
The report said office market for Kuala Lumpur and Selangor continued to self-correct as increasing supply shadowed low absorption.
"Negative absorption of Kuala Lumpur office space following downsizing and consolidation of the oil and gas and its related sectors," it said.
However, it said the demand for Multimedia Super Corridor certified space remained resilient.
The report also highlighted the expansion of net lettable area (NLA) of retail spaces in the Klang Valley by approximately 72,464 square metres brought the cumulative supply to approximately 5.33 million square metres, or about 0.65 square metre per person, as one of the highest in the region.
On Penang's property market, the report said the state's office market remained relatively healthy with both occupancy rates and rentals holding steady.
"The condominium sub-sector is still consolidating while the retail sub-sector is expected to face further challenges with additional incoming supply poised to come into the market in 2019," it said.
The report also highlighted the postponing of new residential project launches in Johor Baru as developers were clearing existing stocks by offering attractive discounts and incentives.
It said notable developments and catalytic projects in other sectors such as the Coastal Highway Southern Link, Pengerang Integrated Petroleum Complex and Desaru Coast Golf Course were expected to help support the growth in residential, commercial and retail sub-sectors in Iskandar Malaysia and Johor, in general.
On Kota Kinabalu's property market, it said the high supply pipeline of residential properties, particularly high-rise units from recently completed and soon to be completed projects is expected to exert pressures on the capital and rental market.
It added that there is no new incoming supply of purpose-built offices but the market has plateaued with overall occupancy hovering at a healthy level.
Source: TheSunDaily.my